Regional security cooperation urged
TAIPEI FORUM: Yesterday's Taiwan-US-Japan Trilateral Security Dialogue session saw Japanese and US lawmakers focus on the rise of China and Taiwan's reliance on it
Lawmakers from Taiwan, Japan and the US attending a conference in Taipei yesterday called for stronger security cooperation among the three countries and support for Taiwan's membership in the proposed Trans-Pacific Partnership (TPP) to reduce the nation's overdependence on China.
The parliamentary session of the fourth Taiwan-US-Japan Trilateral Security Dialogue focused specifically on China's impact on regional stability.
Disputes over China's expanding core interests regarding maritime boundaries would surely extend to the next decades and beyond, with persistent tension occasionally escalating in the conflicts, Democratic Progressive Party Legislator Hsiao Bi-khim (蕭美琴) said.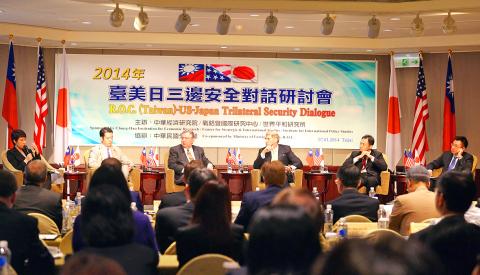 Lawmakers from Taiwan, Japan and the US take part in the ROC (Taiwan)-US-Japan Trilateral Security Dialogue in Taipei yesterday.
Photo: Wang Yi-sung, Taipei Times
Hsiao called for the inclusion of "security language" in Japan's version of the US' Taiwan Relations Act, which is under deliberation at the Diet's House of Representatives, to strengthen what she said was the "very limited" security engagement between Taipei and tokyo, compared with the solid security ties between Taiwan and the US and between the US and Japan.
"Although we can expect China to object strongly, I believe there exists among Japanese politicians a desire to craft proper language, as US politicians did in 1979 and 1980. This language will ensure stability in their relationship with China, while at the same time allowing room for security cooperation with Taiwan," Hsiao said.
Japanese Diet member Keisuke Suzuki said that the US' determination to maintain a strong presence in the region is vital to its security and prosperity because China's goal is to push the US out of the region and set up a new order.
The common concerns Japan and Taiwan have is "how long the US can maintain its commitment to this region" because US public support for aggressive foreign policy has shrunk after the long wars fought in Afghanistan, Iraq and Syria, Suzuki said.
Suzuki emphasized the importance of Taiwan's entry into the TPP because an overreliance on China's economy would affect Taiwan's political independence.
US Representative Steve Stockman also spoke about the lack of US public support for international intervention.
"As we have seen the rise of Russia being nationalist and the rise of China being nationalist, people involved in the region should get together and have some kind of coalition. My fear is that the US may not be able to come to calls when necessary," Stockman said.
He said he hopes to see a regional organization form to counter China.
Since China has put forward challenges to the region, leaders of the region have to stand up to address the problems despite difficulties or they would find one day that they have no resources to resist the challenges since that "China is tightening its grips," Stockman said.
Japanese Diet member Taku Otsuka said Taiwan should be cautious about the future even though closer cross-strait economic ties developed over the years have benefited its economy and reduced cross-strait tensions.
Nobody can predict how China will develop over the next decade and it would be naive to assume that it will rise in the direction of openness and democracy, he said.
"If Taiwan is heavily dependent on China economically, it will not be able to resist any move from China. When China succeeds in excluding US forces from the region, it could easily take on Taiwan as Russia has done to Crimea," Otsuka said.
Taiwan joining the TPP would be one of the most effective ways for it to divert part of its trade and investment from China to other trading partners, he said.
China may object to efforts to include Taiwan in the proposed trade bloc, but the US should not only convince other member countries to agree to Taiwan's entry, but also "allow loosening of some TPP standards" to welcome Taiwan since "TPP's standards are too high for Taiwan in some respects," Otsuka said.
Comments will be moderated. Keep comments relevant to the article. Remarks containing abusive and obscene language, personal attacks of any kind or promotion will be removed and the user banned. Final decision will be at the discretion of the Taipei Times.