Visit was successful despite 'situations': Zhang Zhijun
China's Taiwan Affairs Office Minister Zhang Zhijun (張志軍) yesterday described his trip to Taiwan as "a successful visit," even though there were "some situations."
Zhang spoke of his trip yesterday over lunch with Taipei Mayor Hau Lung-bin (郝龍斌), who was finishing up a four-day visit to Beijing, according to others at the meeting.
They quoted Zhang as saying that he had felt the warmth of ordinary Taiwanese during his four-day stay in Taiwan from Wednesday to Saturday.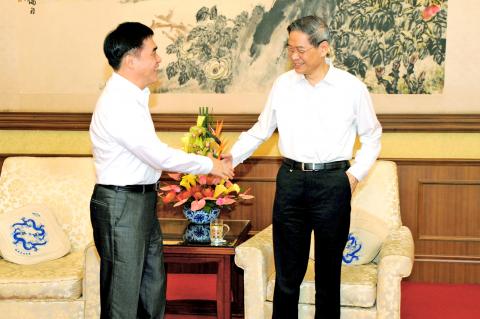 Taipei Mayor Hau Lung-bin, left, shakes hands with China's Taiwan Affairs Office Minister Zhang Zhijun in Beijing yesterday.
Photo: CNA
Although he experienced "some situations" in Taiwan — the term he used to describe the many protests he encountered — Zhang said he felt that the opinions he heard in the demonstrations were not representative of the voices of most Taiwanese, the people said.
The Chinese official told Hau that he sensed most Taiwanese at the grassroots level do not like talking politics, but care more about economic problems, they said.
The future development of cross-strait ties should concentrate on economic issues and practical people-to-people exchanges, Zhang said, according to the sources.
Zhang was shadowed by protesters almost everywhere he went during his time in Taiwan, who were intent on showing their displeasure with closer ties with Beijing and over what they say is China's suppression of the nation's sovereignty.
Some of the rallies erupted into violent clashes between protesters and police.
Hau said "impolite actions" are not the norm in Taiwan. Describing the nation as a pluralistic society, he said any views can be expressed, but "peace and reason are paramount."
Hau flew to Beijing on Thursday to attend the Beijing International Tourism Expo and promote Taipei as a tourist destination. He did not meet Zhang when the latter was in Taipei.
Zhang was the first Chinese official in charge of Taiwan affairs ever to visit the nation.
Comments will be moderated. Keep comments relevant to the article. Remarks containing abusive and obscene language, personal attacks of any kind or promotion will be removed and the user banned. Final decision will be at the discretion of the Taipei Times.