Taipei International Food Show opens for four-day run
The biggest-ever Taipei International Food Show opened at the Taipei World Trade Center yesterday, showcasing new products, cooking shows and a variety of culinary events.
The annual trade show, now in its 24th year, attracted 1,592 local and foreign exhibitors this year, the Taiwan External Trade Development Council said.
The four-day show, which coincides with four other related shows on packaging, processing, machinery and halal food, will run through Saturday.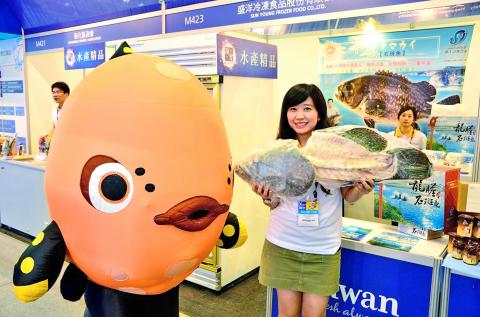 An exhibitor holds up a grouper at a booth at the 2014 Taipei International Food Show at the Taipei World Trade Center yesterday. Greater Kaohsiung's Marine Bureau is promoting the fish at the annual trade show, which opened yesterday and runs through Saturday.
Photo: Huang Chien-hua, Taipei Times
It is expected to attract over 65,600 visitors, including 6,500 international buyers, the council said.
"Over the years, the show has become an established name internationally, attracting companies from all over the world," council chairman Wang Chih-kang (王志剛) said at the opening ceremony.
The nation's food industry output is forecast to reach US$20.5 billion this year, up 3.33 percent from a year earlier, Wang said, adding that a quarter of the total output is exported.
Among the highlights of the show are the 35 national pavilions that showcase national foods and special dishes, including eight that are making their debut at this year's show.
The show has expanded its boundaries this year, offering health-conscious buyers a dedicated space for vegetarian and organic products in response to the increasing awareness of health issues among Taiwanese.
Another highlight will be the daily special promotions put on by national pavilions between 1pm and 2pm, the council said.
Both the Taipei World Trade Center Exhibition Hall 1 and Nangang Exhibition Hall will be "in full use" for the event, the council said.
The show is open to industry professionals and buyers through tomorrow, but will be open to the public on Saturday.
Tickets are NT$300 each. Children under 12 years old or below 1.5m will not be admitted.
Comments will be moderated. Keep comments relevant to the article. Remarks containing abusive and obscene language, personal attacks of any kind or promotion will be removed and the user banned. Final decision will be at the discretion of the Taipei Times.