Russian rescued after ocean flight
ROUGH RIDE: Boris Silkin fled the Philippines on a makeshift raft, hoping to hitch a ride on a passing ship, but was left adrift when he ran into a storm
The coast guard rescued a 74-year-old Russian found adrift at sea on a makeshift raft on Tuesday and discovered that he had fled the Philippines the day before.
Sporting a full beard and wearing a suit jacket, the man, identified as Boris Silkin by his passport, was carrying only a couple of backpacks and some simple amenities when he was found, coast guard officials said.
Silkin was rescued in the Bashi Channel, about 125 nautical miles (230km) southeast of Oluanpi (鵝鑾鼻), Taiwan proper's southernmost tip.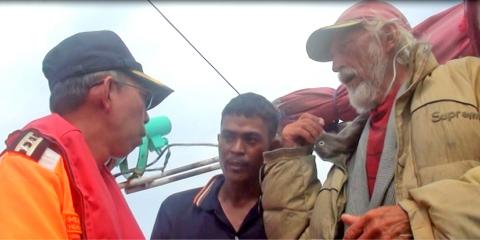 Russian national Boris Silkin, right, talks with a Taiwanese coast guard on Wednesday in Greater Kaohsiung after he was rescued on Tuesday in the Bashi Channel, about 230km southeast of Oluanpi, the southernmost tip of Taiwan proper.
Photo: Huang Chien-hua, Taipei Times
"We are pretty amazed that he made it. He was sailing on a simple raft and was hit by a big storm at sea. It is incredible that his raft did not overturn. He is very lucky that he survived the journey," a coast guard official said.
Silkin was first spotted by the crew of a Taiwanese fishing boat.
"At about 6:30am, we saw a foreigner drifting at sea on a raft made of wood and bamboo," a crewmember said.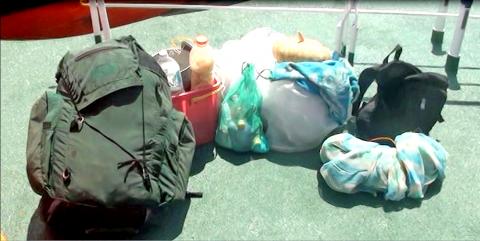 The simple luggage found on Russian national Boris Silkin is displayed in Kaohsiung after he was rescued by the coast guard on Tuesday in the Bashi Channel.
Photo: Huang Chien-hua, Taipei Times
They contacted the local fishery radio station, which relayed the message to the Coast Guard Administration for assistance. The agency dispatched one of its new 1,000-tonne patrol vessels, the Shun Hu No. 7, which traveled at full speed to the reported co-ordinates. They picked up the man and took him to Kaohsiung Port on Wednesday.
Taiwanese officials were very surprised to hear the details of Silkin's escape from the Philippines.
Silkin said he had overstayed his visa in the Philippines.
"I did not have enough money to go back to Russia and I was afraid of getting caught and being punished by Philippine authorities. So with the help of other [people], I built a raft by tying wood and bamboo together, and made my escape," he said.
"A local fishing boat towed my raft out to sea. My plan was to hitch a ride on a passing ship that was heading north to Russia, so I could go home," he said.
However, Silkin ran into trouble when a tropical storm hit, and high waves swept his raft into the Bashi Channel.
The Russian said he was very grateful to the Taiwanese coast guard for rescuing him.
Agency officials said they have contacted the Russian representative office in Taipei, and Russian officials are now handling Silkin's case.
A coast guard spokesperson warned of the perils at sea and said sailors must do safety checks before heading out to sea. When they encounter trouble, they can call the local fishery radio station for assistance, or contact the local coast guard office for help.
Silkin's plan and predicament are similar to an incident last year. Inspired by the movie Life of Pi, Czech national Martin Psota, who had overstayed his tourist visa and did not have money for an airplane ticket, tried to leave Taiwan on a crudely built raft to travel to Japan in June last year. He was later rescued by the Taiwanese coast guard near the Bashi Channel.
More recently, a US national escaped from Taiwan to the Philippines in a rubber boat.
According to press reports from the Philippines, Allan David Ferris, 64, said he paddled for 30 hours from Taipei and made it to the coast of Batanes on May 24. He was exhausted from the ordeal and fell unconscious, and a local fisherman who found him thought he was dead. He was taken to a hospital for treatment.
Ferris said his house in New Taipei City was raided by police, and that he was wrongly charged with drug possession. The American said he did not trust Taiwanese police and the legal system, so he fled, the reports said.
He was detained by Philippine authorities and was awaiting extradition to Taiwan under the two countries' judicial assistance agreement.
The episode ended in tragedy; just before his extradition, Ferris died from an illness on June 13 in a detention center for foreigners in the Philippines.
Comments will be moderated. Keep comments relevant to the article. Remarks containing abusive and obscene language, personal attacks of any kind or promotion will be removed and the user banned. Final decision will be at the discretion of the Taipei Times.