Selfless teenager wins presidential award
Hard work and determination can often be the answer to people seeking a better life, and for Wu Pei-yun (吳珮均) it has been no different.
The Ministry of Education earlier this month announced 56 nominees for this year's Presidential Educational Award, of which Wu was the only recipient from Changhua County.
Established in 2001 by then-president Chen Shui-bian (陳水扁), the award seeks to promote children and teenagers who have overcome significant difficulties with a positive attitude, or who have shown exceptional talent or skill despite challenging circumstances who can become role models for others.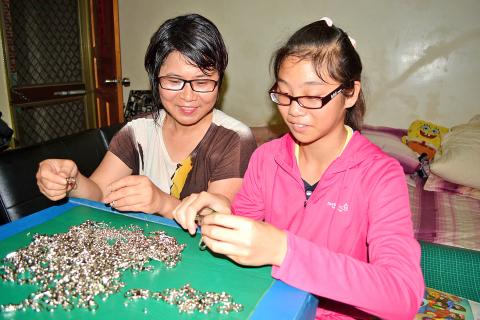 Dacun Elementary School student Wu Pei-yun, right, helps her mother at their Changhua County home on Monday.
Photo: Tang Shih-ming, Taipei Times
Hailing from a single-parent family, Wu lives with her mother, Chen Chen-ling (陳真玲), who lost her left leg in a car crash while still pregnant with Wu.
They live in a house no larger than 4 ping (13.2m2) in Changhua County's Dacun Township (大村).
Wu said her family background made her relatively quiet and shy, and she distanced herself from her classmates prior to the fifth grade.
However, she said that one of her main goals was trying not to worry her mother.
"I believe that if I think of happy things, they will come true," Wu said.
Her talent for drawing was discovered by her fifth-grade homeroom teacher, Lee Ying-chieh (李英傑), while her physical education instructor Chuang Chen-yang (莊鎮陽) spotted her ability in high jumping.
Under their tutelage, Wu not only received a gold medal in the Noordhoff Craniofacial Foundation's Children's Literature Award for her illustrated book telling her story, but she also won a countywide sixth-grade high jump competition.
Wu's teachers also commended her on maintaining high grades.
Wu's mother said her daughter was precocious, not only in keeping her troubles to herself, but also in helping with her mother's small gadgets business after her homework is out of the way.
"It is rare for a child to be so selfless, but at the same time it is heart-wrenching," Chen Chen-ling said.
Meanwhile, Changhua County Councilor Chang Shue-ru (張雪如) of the Chinese Nationalist Party (KMT), known for her efforts to prevent family violence and rape, and her dedication to assisting single-parent families, said she was saddened to hear that Wu and Chen lived in such a small house.
Chang said she has offered Wu's school, Dacun Elementary School, any stationery or daily essentials that Wu might need.
Comments will be moderated. Keep comments relevant to the article. Remarks containing abusive and obscene language, personal attacks of any kind or promotion will be removed and the user banned. Final decision will be at the discretion of the Taipei Times.