Delegation led by deputy minister heads to Vietnam
A delegation led by Vice Minister of Economic Affairs Shen Jong-chin (沈榮津) is heading to Vietnam today to negotiate over damage sustained by Taiwanese businesses during the recent anti-China protests there.
During the planned four-day visit, the delegation is to discuss compensation to investors under the bilateral investment protection agreement both countries signed in 1993, Shen told a press conference at the Executive Yuan.
Shen declined to unveil the list of Vietnamese officials the delegation is to meet with in Hanoi.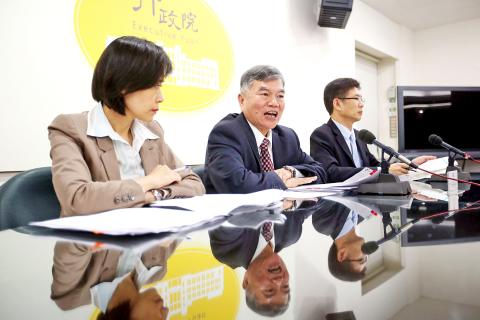 Vice Minister of Economic Affairs Shen Jong-chin, center, announces at a press conference in Taipei yesterday his plan to lead a delegation to Vietnam today to assess the damage sustained by Taiwanese businesses during recent anti-China riots.
Photo: CNA
Executive Yuan spokesperson Sun Lih-chyun (孫立群) said that meetings "were all set up," but both sides preferred not to disclose the schedule.
The Ministry of Economic Affairs said 224 Taiwanese businesses suffered losses, including 18 whose facilities were set ablaze by rioters, after protests in Vietnam that erupted after China deployed an oil rig near the Paracel Islands (Xisha Islands, 西沙群島), which are claimed by Taiwan, China and Vietnam.
They included 175 in Binh Duong Province, 41 in Dong Nai Province, six in Ho Chi Minh City, one in Ba Ria-Vung Tau Province and one in Ha Tinh Province, the ministry said.
Last week, the Ministry of Foreign Affairs said that the government would seek to file a united claim seeking compensation for the damage caused to Taiwan-owned businesses with Japan, South Korea and Singapore because protesters also destroyed some factories owned by their nationals, but Shen said yesterday that Taiwan would talk to Vietnam first.
The delegation is composed of high-ranking officials in charge of investment, taxation, insurance, loans, labor, credit guarantee funds and other areas.
"We hope that we can decide how to meet [Taiwanese investors'] demands to help them get back to normal operation as soon as possible," Shen said.
Shen said he had talked to several firms in Vietnam recently, and none were considering withdrawing capital from Vietnam, but they hoped that the riots would never recur.
Separately, the Chinese Nationalist Party (KMT) yesterday sent a delegation led by KMT Deputy Chairman Tseng Tung-chuan (曾永權) and Legislator Chan Kai-chen (詹凱臣) to offer sympathy to Taiwanese businesspeople in Vietnam and to learn about their needs.
President Ma Ying-jeou (馬英九) has instructed the delegation to provide Taiwanese investors with assistance to get back to business as soon as possible.
On behalf of the Democratic Progressive Party, Legislator Tsai Huang-liang (蔡煌瑯) also arrived in Vietnam to offer help yesterday.
Tsai said that he would listen to the needs of Taiwanese businesspeople and urge the government to support them as much as possible.
Comments will be moderated. Keep comments relevant to the article. Remarks containing abusive and obscene language, personal attacks of any kind or promotion will be removed and the user banned. Final decision will be at the discretion of the Taipei Times.