Foreigners speak about Taiwan during RTI speech contest
More than a dozen foreign nationals attended the final round of the 10th annual Radio Taiwan International (RTI) Mandarin speech contest in Taipei yesterday afternoon, in which they delivered costumed performances and gave speeches about various walks of life in Taiwan.
During the first stage of the contest held at Taipei Zhongshan Hall, the 21 finalists walked out on stage dressed as workers from professions such as postman, high-speed rail conductor, policeman, martial arts coach, fruit shop owner, nurse and other occupations.
RTI said the annual contest is held to encourage foreigners to learn Mandarin, talk about Taiwanese culture and share their experiences of Taiwan.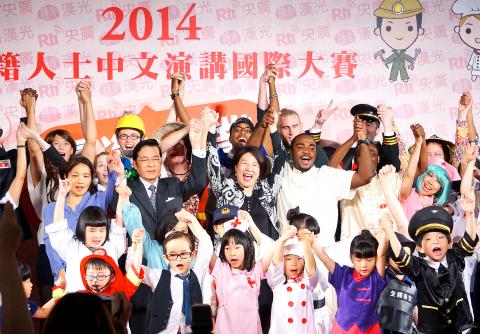 Hanguang Education Foundation chairman Soong Chu-fang, third row, left, and Radio Taiwan International (RTI) chairman Chang Jung-kung, third row, second left, cheer with participants at a speech contest organized by the foundation and RTI in Taipei yesterday.
Photo: CNA
This year's contest attracted nearly a hundred participants from more than 30 countries, it added.
All finalists were given three minutes to give a speech about the walk of life that they had chosen, one minute to answer a question that they had drawn on stage and another minute for a creative performance about Chinese poetry.
Sergiy Popovych, a university student from Ukraine, said he originally came to Taiwan only to learn computer science, but soon began learning Mandarin because he liked the friendly atmosphere in Taiwan and wanted to get to know more people.
His speech about being a Taiwanese deliveryman included descriptions of traditional cultural practices such as writing wishes on sky lanterns, and was blended with a few sentences spoken in Taiwanese and Mandarin with an Aboriginal accent.
Others spoke about topics such as the delicious fruit in Taiwan, the tragedy of being a fisherman due to land subsidence and water pollution, personal experiences of being a missionary in Taiwan, and answered questions including their reasons for coming to Taiwan and favorite Taiwanese fruit or food.
The first prize and cash prize of NT$100,000 was awarded to Ayana Shirai, a young Japanese woman who is also the only contestant not living in Taiwan, for her speech about health described in her role play as a doctor of traditional Chinese medicine.
Comments will be moderated. Keep comments relevant to the article. Remarks containing abusive and obscene language, personal attacks of any kind or promotion will be removed and the user banned. Final decision will be at the discretion of the Taipei Times.