Vietnam must ensure safety: officials
TAKING STOCK: The Ministry of Economic Affairs is to send officials to Vietnam to negotiate compensation for Taiwanese businesses damaged in recent protests
Vietnam must take "all measures required" to ensure the personal safety of Taiwanese in Vietnam, as well as the safety of their property, and offer appropriate compensation for losses caused to Taiwanese firms during recent protests, government officials said yesterday.
Following an intergovernmental meeting called by Vice Premier Mao Chi-kuo (毛治國) early yesterday morning, the Executive Yuan issued a statement saying that Vietnam should continue to deploy "adequate military and police officers" to protect Taiwanese and their businesses until the government is able to restore order in restive areas.
Mao demanded that Minister of Foreign Affairs David Lin (林永樂) again call in Vietnamese Representative to Taiwan Bui Trong Van, director of the Vietnam Economic and Cultural Office in Taipei, to lodge the government's concerns over the recent anti-China protests in Vietnam that have damaged factories and facilities owned by Taiwanese investors.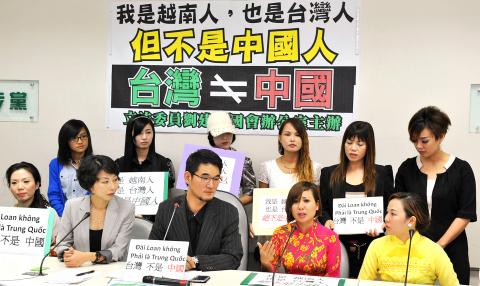 Democratic Progressive Party legislators Chen Ting-fei, front row left, and Liu Chien-kuo, front row second left, hold a press conference in the legislature yesterday. They invited a number of Vietnamese women married to Taiwanese men to discuss how they are Vietnamese and Taiwanese, but not Chinese, which is also the text on the poster in the background and the signs in their hands.
Photo: Liu Hsin-de, Taipei Times
Lin talked to Bui for almost three hours in the morning, with Bui agreeing to appear at a press conference in the afternoon to address the issues in person.
In addition to expressing severe condemnation of the violent acts during his meeting with Bui, Lin said that he has made three demands of Vietnam — Vietnam apologizes to Taiwan; harshly punishes perpetrators at the earliest possible opportunity; and satisfies all claims for damages that its citizens have caused to Taiwanese firms.
Vietnam should look into the extent of damage caused to the Taiwanese facilities and establish a cooperative mechanism through which both governments can negotiate the issue, based on the investment protection agreement both sides signed in 1993, Lin said.
The Ministry of Economic Affairs will send a group of officials to Vietnam in the coming days to negotiate with their Vietnamese counterparts over compensation claims, he added.
Meanwhile, Lin said the ministry's personnel in Vietnam would help resolve any problems that Taiwanese investors and their family member may encounter in Vietnam when they decide to return to Taiwan, including difficulties in booking flight tickets, preparing the necessary travel documents, or not having cash.
Earlier yesterday, Executive Yuan spokesperson Sun Lih-chyun (孫立群) said that the government would make sure that every Taiwanese in Vietnam who wants to return to Taiwan would be able to buy a flight ticket at a reasonable price.
In the past few days, the number of seats still available on flights from Vietnam exceeded the demand, Sun said.
"The government has conducted an estimate of the damages caused to Taiwanese investors during the protests and the result will be released tomorrow [Sunday]," Sun said.
"About 40 percent of the Taiwanese-owned businesses who were forced to shut down temporarily have resume operations yesterday," Sun said.
Comments will be moderated. Keep comments relevant to the article. Remarks containing abusive and obscene language, personal attacks of any kind or promotion will be removed and the user banned. Final decision will be at the discretion of the Taipei Times.