PROFILE: 'Rice Bomber' says he is putting his ideals to work
His transition to managing the 248 Farmer's Market has surprised many, but farming activist Yang Ju-men (楊儒門) — formerly known as "the Rice Bomber" — said he has not given up on his ideals, but is rather putting them into practice.
Yang was sentenced in 2005 to seven-and-a-half years in jail and fined NT$100,000 for planting 17 rice-filled homemade explosives in parks, telephone booths and trains beginning in November 2003. No one was injured in his bombing campaign.
During his trial, Yang said he resorted to the acts to attract government attention to the plight of farmers after the nation's accession to the WTO in 2002.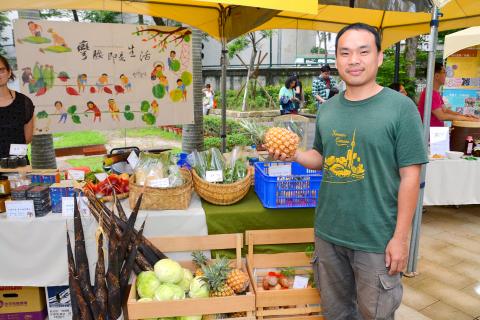 Farming activist Yang Ju-men, known as the "Rice Bomber," holds a pineapple at a market stand in Taipei on April 19.
Photo: Wu Po-hsuan, Taipei Times
He was pardoned in 2007 after spending 16 months in jail.
In 2008, Yang established the 248 Farmer's Market in Taipei's East District to promote nontoxic agriculture that he says is more friendly to the environment and can help make farmland more productive.
According to Yang, the store purchases red beans and crystal sugar, priced at NT$300 and NT$60 per kilogram respectively, and makes them into red bean soup, which is sold for NT$40 per bowl.
"With this method the store is able to sell four to five long tons [four to five tonnes] of red beans, which is the equivalent yield of seven to eight hectares of farmland," Yang said.
"Yet the market's promotion of a higher agricultural production rate is still paltry when placed beside the total population of farmers, estimated at 20,000 to 30,000, and the 250,000 hectares that is lying fallow," he said.
"However, changes start small and grow with time," he added.
Yang said six years ago he and others had tried to tell the government that Taiwanese merchants were labeling as "locally produced" rice that was in fact a mixture of locally produced and cheap imported rice, which is about NT$34 per kilogram or 40 percent cheaper than the Taiwanese grain.
"Society tends not to focus on these issues until there is a food safety incident," he said.
Commenting on the controversial cross-strait service trade pact, Yang said the probability of the Chinese dumping agricultural products in Taiwan was low because they have problems of domestic food shortages, as well as having 20 percent of food imports held firmly by the Japan-based Marubeni Corp.
However, Yang said that Chinese source materials might be ferried to Taiwan under the establishment of the Taipei and Greater Kaohsiung free economic pilot zones, but be labeled: "Made in Taiwan," to fetch a better price.
And if Taiwanese workers refuse to work, then the company would just hire foreign workers, Yang said, adding that the money would just end up in someone else's pockets.
The sector most affected by the pact would be the retail and distribution sectors, Yang said.
For instance, he said, if a community has a traditional convenience store, barber shop and breakfast shop, community residents would perhaps spend NT$100 on breakfast, with which the breakfast shop owner can use to get a haircut, with which, in turn, the barber shop employee can buy things at the convenience store, which creates a "circular economy."
However, once international and Chinese investors enter the market and buy out local convenience stores and retail shops, it there will not be a circular economy, Yang said.
The corporations would begin competing with each other, either cutting staff or hiring more Chinese nationals, Yang said, adding that such a situation would shrink the local job market.
Yang said he disapproved of Sunflower movement members entering politics.
The student-led demonstration against the government's handling of the cross-strait service trade agreement involved protesters occupying the Legislative Yuan's main chamber from March 18 to April 10.
Yang said there were three forces that could change society: farmers, laborers and students.
Farmers and laborers could initiate a revolution if they have no food and are unable to provide for their families, while students provide the ideals to make a better society, he said.
"However, once money, fame and power are involved, people start changing very fast," Yang said.
He added that he "cannot believe the students have their hearts in the right place if they are first politically involved."
"If they devote themselves to politics and do not change within a decade, only then will I stand and vote for them," he added.
Comments will be moderated. Keep comments relevant to the article. Remarks containing abusive and obscene language, personal attacks of any kind or promotion will be removed and the user banned. Final decision will be at the discretion of the Taipei Times.