Police block protesters from FPG
LIME DUMP: A protester dumped what was said to be waste lime from the plant as police stopped efforts by the groups to enter the firm's premises
Clashes broke out between protesters and the police in front of Formosa Plastics Group's (FPG) headquarters in Taipei yesterday morning during a rally against the company's expansion plans for a naphtha cracker in Yunlin County.
More than a dozen protesters were present, before an environmental impact assessment (EIA) to review an expansion proposal at the naphtha cracker was held at the Environmental Protection Administration yesterday afternoon.
Members of the Yunlin County Shallow Waters Aqua-culture Association, the Yunlin Environmental Protection Union and the Taiwan Water Conservation Alliance said toxic air pollutants emitted by the naphtha cracker have already increased cancer occurrence rates in nearby townships, so the firm should not be allowed to expand anymore.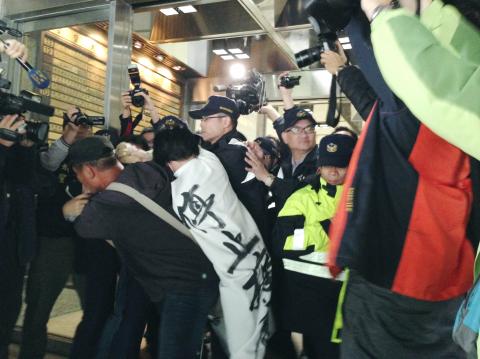 Environmental activists from Yunlin County yesterday stage a protest in front of the Taipei headquarters of the Formosa Group against its operations in the county.
Photo: Chang Hui-wen, Taipei Times
Yunlin County Shallow Waters Aqua-culture Association secretary-general Lin Jia-an (林家安) said an epidemiological survey by National Taiwan University professor Chan Chang-chuan (詹長權) showed that the air quality within 10km of the cracker has worsened.
Association member Wu Jih-hui (吳日輝) said the cancer rate in Taisi Township (台西) has increased rapidly since the cracker began operation and is now more than 10 times the national average.
"Do not sacrifice residents' lives for your own gain," Wu said, referring to Formosa Plastics, adding that the company should not be allowed to expand its operations because it cannot properly manage the pollution it generates.
At one point, the protestors tried to enter the building to hand out petitions, Chan's epidemiological survey report and a list of people who they claim had died of cancer, but they were blocked by police, sparking a minor clash.
During the confrontation, a protestor dumped what was claimed to be lime created by the naphtha cracker in front of the company's main door, saying that the groups wanted to return the company's pollutant to its owners.
Formosa Plastics Group vice president Lin Sang-chi (林善志) came out to accept the protestors' documents and said the relationship between the expansion projects and nearby residents' diseases still needed to be clarified, but the company would make an official response to the Yunlin County Shallow Waters Aqua-culture Association within a month.
"We are a responsible corporation, which holds the public's health as its top priority," he said, adding that the expansion proposal is to upgrade the current facilities and will reduce pollution.
The EIA meeting yesterday did not approve the proposal, but concluded that Formosa Plastics Group must submit more information on air pollutants, water use and health risks associated with the plan for further review.
Comments will be moderated. Keep comments relevant to the article. Remarks containing abusive and obscene language, personal attacks of any kind or promotion will be removed and the user banned. Final decision will be at the discretion of the Taipei Times.