TRADE PACT SIEGE: Cross-strait accord key to opening nation's trade: Ma
There is an "inexplicable fear" among some groups in Taiwan that the nation will become too dependent on China, President Ma Ying-jeou (馬英九) told a video conference with the Washington-based Center for Strategic and International Studies on Wednesday.
He said that following the occupation of the Legislative Yuan by protesters, new laws were needed to handle the oversight of cross-strait agreements.
Ma said more public communication and education would help people understand that the cross-strait service trade pact was in the nation's best interests.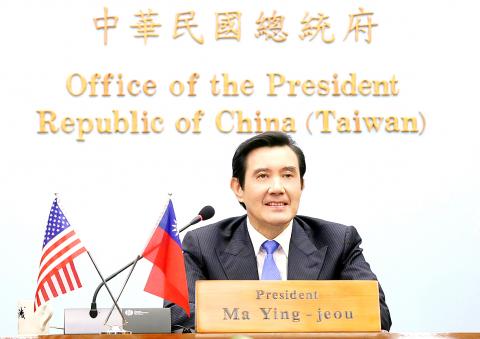 In this picture taken and released by Taiwan's Presidential Office on Wednesday, , Taiwan President Ma Ying-jeou speaks during a video conference in Taipei for the Center for Strategic and International Studies in Washington.
Photo: AFP
The 70-minute conference paid remarkably little attention to the student-led protests that have dominated Taiwan politics recently, but later in the day the Formosan Association for Public Affairs (FAPA) held a rival conference featuring two student leaders of the Sunflower movement.
Ma said in his opening statement that cross-strait relations were better now than they had been in more than six decades.
He told the conference — held to celebrate the 35th anniversary of the Taiwan Relations Act (TRA) — that since taking office, he had pursued a cross-strait policy of maintaining the political "status quo," but that he did not exclude political talks "if the people of Taiwan support it."
The president emphasized that membership in the trade group known as the Trans-Pacific Partnership (TPP) would benefit not only Taiwan, but all TPP member states.
US support for Taiwan's membership in TPP would mark the beginning of a "bright new chapter" in US-Taiwan relations, Ma said.
"The sky is the limit, so let's soar on the wings of this unique partnership," he said.
US Representative Mario Diaz-Balart, co-chair of the Congressional Taiwan Caucus, called Ma a "trusted, reliable friend" and said Taiwan had a resource more valuable than oil and worth more than gold.
"It is the brilliant hardworking entrepreneurs who have created a beacon of light and democracy and freedom for the world to see," he said.
Ma told the conference that Taiwan should push to increase security and economic ties with the US. In particular, he stressed Taiwan's need for diesel-electric submarines.
"There seems to be a consensus in Taiwan that we should seek foreign technology to help us build submarines ourselves," he said.
Former US deputy secretary of defense and now chairman of the US-Taiwan Business Council Paul Wolfowitz praised the cross-strait service trace pact, but said there were people in Taiwan who are concerned that it would push the nation into the arms of China, putting democracy at risk.
Ma said the US could give Taiwan "a helping hand" by facilitating membership in the TPP.
He said that the cross-strait service trace pact would promote peace and prosperity, and that he was working to "diversify our export destinations and assure our people that we will not put all of our eggs in one basket."
Ma said that if Taiwan wanted to join the TPP, it had to demonstrate its seriousness by opening markets and deregulating unnecessary laws and regulations. However, "opening up" to China would be done "very carefully" and the impact on society — not just the economy — would be taken into consideration.
"Opening up Taiwan is part of our survival strategy," he said.
US Department of State spokeswoman Jen Psaki was asked later about Washington's position on Ma's request for Taiwan to be included in the TPP.
"We welcome Taiwan's interest in [the] TPP, noting its ongoing domestic work to assess its readiness to take on [the] TPP's ambitious commitments," she said.
"[The] TPP is open to regional economies that can demonstrate this readiness and win consensus support of the current TPP members for them to join," she added.
"Right now, the 12 TPP members are focused on concluding the negotiations to create the TPP. In the near term, the Trade and Investment Framework Agreement provides an opportunity for Taiwan to resolve existing US trade and investment concerns, demonstrate its preparations to take on new trade commitments and set itself on a path of new liberalization of its economic regime," Psaki said.
Comments will be moderated. Keep comments relevant to the article. Remarks containing abusive and obscene language, personal attacks of any kind or promotion will be removed and the user banned. Final decision will be at the discretion of the Taipei Times.