Ex-baseball player finds a new role in life
Former Nan Wang Elementary Baseball Team pitcher Meng Shao-ying (孟邵穎) was confident that he would be able to make the sport his career, especially after he saw the image of him and his teammates cheering after a victory that was picked to be printed on one side of the NT$500 bill.
Meng was the pitcher of the 13-member little-league baseball team from Taitung County, which won the National Youth Caring Cup Championship in 1998.
The championship has been held annually since 1994 by the Taiwan Aboriginal Baseball Development Association to provide young Aboriginal players from eastern Taiwan a chance of fulfilling their baseball dreams.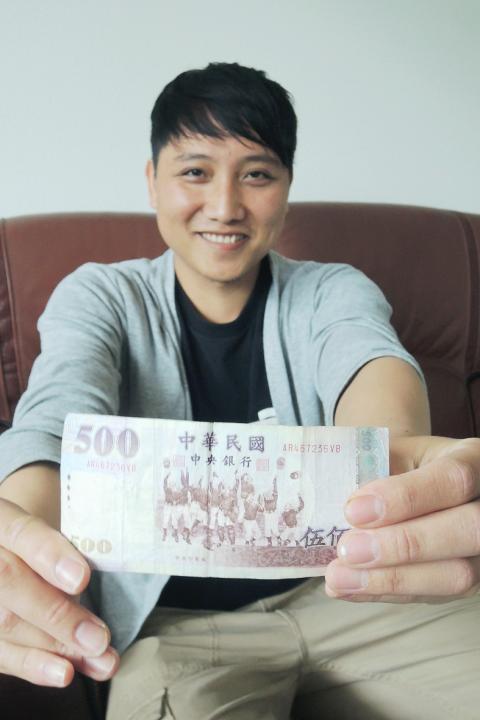 Meng Shao-ying holds up a NT$500 bill at his house in Taitung County on Friday last week. The image on the bill is that of Meng and 10 of his teammates on the Nan Wang Elementary baseball team in 1998.
Photo: Chang Tsun-wei, Taipei Times
The 1998 winners became the "faces" of the NT$500 banknote two years later when the central bank picked a photograph of the youngsters cheering, jumping up and down and tossing their baseball caps in the air to be on the back side of the revised banknote. At least, most of them did — due to space limitations, two of the players were edited out of the banknote image.
Following that 1998 win, Meng's life appeared to be going according to plan. He won the Top Pitcher Award in the National Adult Class A Spring League in 2009 and the following year he was picked up by the Sinon Bulls, a professional team that has since been renamed the EDA Rhinos.
However, fate had a different idea. Three years ago, a congenital vascular malformation caused bleeding in his brain and left the right side of his body paralyzed.
Despite physical rehabilitation, Meng's right hand no longer functions properly. He has difficulty writing and carrying anything heavy, which prevents him from taking any labor-intensive jobs.
He was forced to resign from his jobs as a convenience store clerk and a security guard at a hot spring hotel because of his health.
However, his life took a turn for the better about a month ago, when the Taitung County Employment Service Center helped him land a job as a care assistant at the Parents Association for Mentally Handicapped Persons (PMHP) in Taitung.
"Although Meng did not have any social-service experience, his sunny disposition prompted us to give him a chance… It turned out that we made the right choice," association secretary-general Huang Chun-ya (黃純雅) said.
He has a strong sense of responsibility and often teaches patients at the association how to improve their physical fitness, Huang said.
"He is popular among our patients and is sort of a role model for them," Huang added.
Meng said falling ill had been "good for him," because it allowed him to make a positive change in his life.
"However, it does not mean I have given up on baseball completely. I am hoping to bring together a baseball team at the association," Meng said.
Meng is not the only member of the 1998 team to have left the game. Out of the 11 players who appear on the NT$500 bill, only two still appear on the playing field: Lin Chih-hsiang (林志祥), who is second baseman for the pro-baseball team Uni-President Lions, and Lee Wei-hsiang (李維祥), who is a member of the Taitung Red Coral amateur team.
Comments will be moderated. Keep comments relevant to the article. Remarks containing abusive and obscene language, personal attacks of any kind or promotion will be removed and the user banned. Final decision will be at the discretion of the Taipei Times.