Activists call for participation in anti-nuclear run
A number of public figures, including a film director, performers and an Olympic bronze medalist, yesterday urged the public to participate in an anti-nuclear road run in Taipei slated for Saturday next week.
The event, dubbed "Run Away From Nuclear" (核輻大逃殺) and sponsored by the Anti-nuclear Alliance of Fathers, the Taiwan Environmental Protection Union and the Democratic Progressive Party, is a 5km road-running event that will begin at 7am from Ketagalan Boulevard. The run will simulate a mass of people escaping from radiation after a nuclear accident.
At a press conference yesterday, film director Ko I-chen (柯一正), actor Ralf Chiu (邱彥翔) and Chi Cheng (紀政), the 1968 Olympics bronze-medal winner in the women's 80m hurdles, called for more people to sign up before registration ends tomorrow.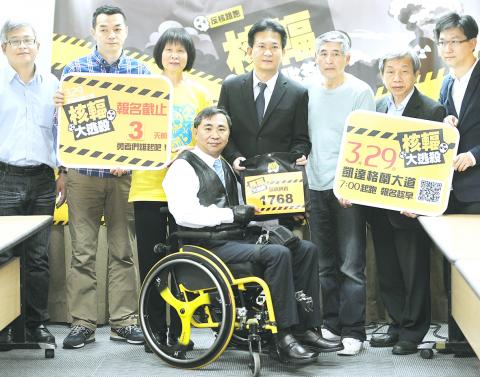 Wheelchair user Hsu Wen-lin collects his serial number in Taipei yesterday as organizers of an anti-nuclear run scheduled for March 29 urged people to register before the deadline of midnight tomorrow.
Photo: Fang Pin-chao, Taipei Times
Also making the call was Hsu Wen-lin (許文麟), who uses a wheelchair after having broken his spine.
Recalling attending anti-nuclear events with his children more than 10 years ago, Hsu said that Taiwan cannot afford to have a nuclear disaster, because Japan's Fukushima nuclear disaster has already shown the devastating consequences.
"I will attend the event in a wheelchair to protest against nuclear energy," he said.
Chi said Germany has set a timetable for decommissioning all of its nuclear plants, while Australia has decided not to build any more nuclear facilities — and that both are good role models that Taiwan can learn from.
"Being silent is the same as approving the government's policies," she said, adding that she hopes more people are willing to participate in the event to promote a nuclear-free homeland, for the good of themselves and their children.
Comments will be moderated. Keep comments relevant to the article. Remarks containing abusive and obscene language, personal attacks of any kind or promotion will be removed and the user banned. Final decision will be at the discretion of the Taipei Times.