Former DPP legislator wins Chiayi primary
Former Democratic Progressive Party (DPP) legislator Twu Shiing-
jer (涂醒哲) has won the party's primary for Chiayi mayor, DPP Chairman Su Tseng-chang (蘇貞昌) announced yesterday in Chiayi City.
Twu finished with the best result in a simulated poll, beating Chinese Nationalist Party (KMT) candidate Chen Yi-chen (陳以真) 39.8 percent to 29.7 percent. He is to be officially named the DPP candidate after approval by the party's Central Executive Committee.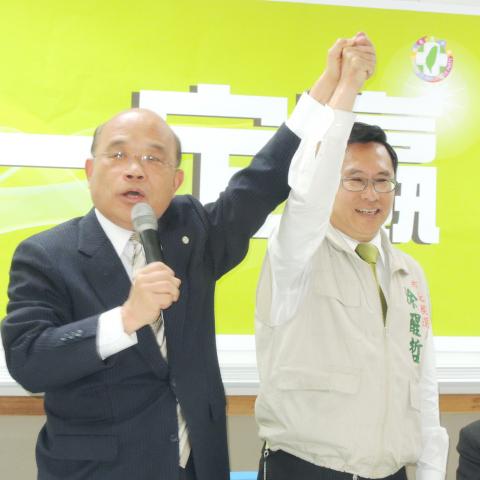 Democratic Progressive Party Chairman Su Tseng-chang, left, congratulates former legislator Twu Shiing-jer in Chiayi City yesterday after Twu came first in the party's poll to choose its Chiayi City mayoral candidate.
Photo: Ting Wei-chieh, Taipei Times
Huang Lu-hui (黃露慧), director of the DPP's Chiayi City Chapter, finished second with a slight margin over Chen at 32.6 percent to 31.9 percent, while Tseng Chin-yuan (曾錦源) lagged behind the KMT candidate by 25 percentage points.
Twu said he was happy with the victory and hoped that he would not let his supporters down in the November election.
With Huang and Tseng pledging to fully support Twu's campaign, Su said Chiayi City, a stronghold of democracy, would be a must-win constituency in the seven-in-one elections.
A former health minister under the DPP administration, Twu ran in Chiayi mayoral election in 2009 but lost to incumbent Mayor Huang Min-hui (黃敏惠).
Twu could have a slight advantage in the three-way election because of a potential split in the KMT. Hsiao Shu-li (蕭淑麗), the director-general of the Farmers' Association of Chiayi City, withdrew from the KMT after failing to win the party's nomination.
Comments will be moderated. Keep comments relevant to the article. Remarks containing abusive and obscene language, personal attacks of any kind or promotion will be removed and the user banned. Final decision will be at the discretion of the Taipei Times.