KMT condemns statue vandalism
UNFORTUNATE: The KMT blasted the Greater Tainan government and police for 'allowing mobs' to tear down a statue of Sun Yat-sen in a city park on Saturday
The Chinese Nationalist Party (KMT) yesterday condemned vandalism of a bronze statue of Republic of China (ROC) founding father Sun Yat-sen (孫逸仙) in Greater Tainan and called for a rational view of the country's history.
The 3m-tall statue in Tang Te-chang Memorial Park was pulled down on Saturday by members of the Alliance of Referendum for Taiwan, a pro-independence group, to the consternation of KMT city councilors.
The KMT gravely condemns the vandalism, KMT Culture and Communication Committee head Fan Chiang Tai-chi (范姜泰基) said in a statement.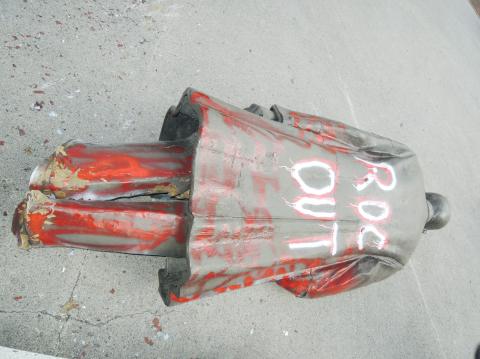 A statue of Republic of China founding father Sun Yat-sen in Tang Te-chang Memorial Park in Greater Tainan, is pictured on Saturday after it was defaced and pulled down by pro-independence activists.
Photo: Wang Chun-chung, Taipei Times
"The Democratic Progressive Party-ruled city government's failure to properly maintain a historic monument and protect cultural assets is regrettable," Fan Chiang said, calling for restoration of the statue as soon as possible.
Sun established the first democratic country in Asia in 1911 and left a significant legacy of advocacy for democracy, human rights and freedom, Fan Chiang said.
"It's deeply regrettable that a small group of people have defaced Sun's statue in a non-democratic action," he said.
The KMT hopes people will view history in a rational manner and refrain from radical actions that could stir up ethnic conflict and disrupt social harmony, Fan Chiang added.
He was referring to the 228 Massacre, an anti-government uprising in 1947 and subsequent brutal crackdown by the then KMT-led government.
In 1997, the then-Tainan city government converted a historic park into the Tang Te-chang Memorial Park in commemoration of Tang Te-chang (湯德章, 1907-1947), a Tainan resident and lawyer who was executed by Nationalist Army military forces on charges of rebellion during the crackdown.
When Tang was arrested by soldiers, he quickly burned a list of the names of participants in the local Settlement Committee, a move that saved the lives of a number of leading residents and students whose names were on the list.
On Saturday, Sun's statue in the park was smeared with paint and pulled down by pro-independence advocates, led by Alliance of Referendum for Taiwan convener Tsay Ting-kuei (蔡丁貴).
As Peace Memorial Day on Feb. 28 is drawing near, "we want to take action to show our support for the 228 victims," Tsay said.
Tsay was arrested for damaging public assets and disrupting public order, but was released after questioning.
The police later decided to send the case to prosecutors.
City Councilor Hsieh Lung-chieh (謝龍介), who is also a member of the KMT's Central Standing Committee, blasted the city government and police, saying they had allowed "mobs" to topple the statue and he called for its restoration.
Meanwhile, the city government expressed regret over the incident, saying it was not in keeping with the city's plans to restore historic sites that dated back to the era of Japanese occupation from 1895 to 1945.
The local government said its historic architecture and cultural landscape commission is carrying out a study, after which a decision will be made on whether to restore the statue.
The city government had planned to relocate the statue last year, but was forced to put the plan on hold due to strong opposition by KMT politicians and supporters.
Comments will be moderated. Keep comments relevant to the article. Remarks containing abusive and obscene language, personal attacks of any kind or promotion will be removed and the user banned. Final decision will be at the discretion of the Taipei Times.