Drug dogs doing well: Customs
GOTCHA: Thanks to the dogs, over the past year, 935kg of illegal drugs have been detected, estimated at NT$3 billion in market value, customs officials said
While most Taiwanese have been relaxing with family and friends over the Lunar New Year holidays, the Department of Customs Administration — along with its 32 drug-detection dogs — have been working hard.
The idea of keeping a kennel of drug-detection dogs had been raised in 2001, but because of Taiwan's uncertain position in the international community, unlike South Korea or Japan it could not count on the US or Australia for aid, Drug-Detection Dog Rearing Division member Lin Shih-chang (林世昌) said.
At first, civilian or academic organizations were contracted to help train dogs for drug detection, with customs receiving three between 2003 and 2006. Taiwan's very first drug-detection dog was a Formosan mountain dog serving at the Taipei Customs Office for seven years before retiring in 2011, Lin said.
Children pet a drug-detection dog while a customs official holds it by a leash in this undated handout photo.
Photo courtesy of the department of Customs Administration
However, civilian training did not yield spectacular results, and it was not until the government accepted an offer from the Australian Customs Service to help with the training and a supply of dogs that the teams saw a significant improvement in performance, Lin said.
Australia supplied Taiwan with the training knowhow, as well as the dogs themselves — all Labrador retrievers. To date it has provided 47 canines at no additional expense. The going rate for an Australian drug-detection dog is about NT$530,000 (US$17,400).
The first puppy raised in Taiwan came into the world on June 2008 and since then, a further 180 Labradors have been bred from more than 30 litters.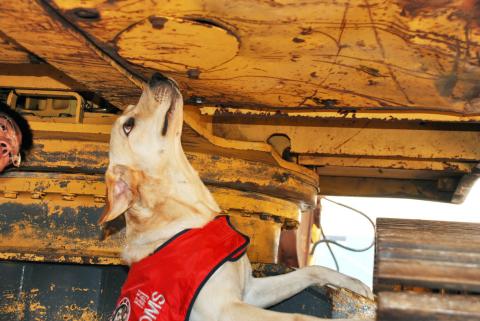 A drug-detection Labrador from the Customs Administration helps customs officials check for hidden drugs on a cargo ship in an undated photo.
Photo courtesy of the department of Customs Administration
Volunteer families were first asked to care for the pups, due to their need for human interaction, before starting training.
Drug-Detection Dog Training and Management Division head Chen Mu-sheng (陳木生) said that training takes 13 weeks per course for both the canines and their handlers, costing about NT$7,500 per dog.
Because barking and jumping might unnecessarily startle travelers, drug-detection dogs are trained from young not to bark, and instead of pouncing on suspects, they stand on their hind legs to sniff them, but do not touch, the administration said.
Hsiao Hei, Taiwan's first drug-detection dog, who served at the Taipei Customs Office for seven years before retiring in 2011, sniffs mail in an undated photo.
Photo courtesy of the department of Customs Administration
Giving treats as rewards is discouraged, Lin said, adding that training handlers usually toss them a towel and play with them instead.
It is also the reason the dogs are fed one meal per day, usually after they are off-duty, Lin said.
However, the average percentage of handlers who pass the training is 50 percent, while the success rate for the dogs stands at 23 percent.
Only 42 have completed training, and of the 32 currently on duty, 13 are based in Taipei, eight in Keelung, seven in Greater Kaohsiung and four in Greater Taichung, Chen said.
One of the obstacles is the handler's stamina, Chen said.
Dogs have better stamina and these ones are very smart, Chen said, adding that if the handlers could not keep up with the dogs, the dogs did not respect or obey them.
With the low training success rate, housing dogs that did not pass the training became a problem, the administration said. At first, customs staff offered to adopt them, or they were adopted by the volunteer families who had cared for them before the training.
Later, the dogs were sent to other organizations, such as fire departments or disease control centers, or used to patrol forests, the administration said. The canines that were not adopted or given to organizations were put up for auction.
Though these dogs have not made it through the training, they are still government property, meaning certain procedures must be followed, the administration said.
The starting price at auctions is NT$500 to NT$800, the administration said, adding that customs is not short of money, and it was auctioning the dogs so that they could be placed with good families.
The administration keeps a list of the new owners and makes periodic checkups to ensure they are well cared for.
According to administration statistics, since the establishment of the training center in 2008, the amount of drugs seized has steadily risen.
Drug-detection dogs are usually on duty for eight hours a day, but handlers must not overwork them or else their sense of smell may tire, Lin said, adding that sniffer dogs should be given a break every 30 minutes, or at the least every hour.
Thanks to the dogs, 935kg of illegal drugs have been detected over the past year — estimated at nearly NT$3 billion (US$98.9 million) in market value — and the figure over the past five years rises to 1,578.8kg — or more than NT$3.9 billion, customs said.
There have been suggestions the administration has "padded" the figures of drugs detected, but officials say not all cases were a result of the dogs sniffing out drugs; in some cases, tip-offs were also received.
"The dogs work hard and have been through rigorous training. We hope the public can give them credit where credit is due for stopping drugs at our nation's borders," the administration said.
Comments will be moderated. Keep comments relevant to the article. Remarks containing abusive and obscene language, personal attacks of any kind or promotion will be removed and the user banned. Final decision will be at the discretion of the Taipei Times.