Police to host Lunar New Year campers
WARM WELCOME: The move will give more people who cannot book hotel or other rooms the chance to enjoy the popular east coast over the Lunar New Year
Four coastal police precincts in Taitung County are opening up their park grounds to campers over the Lunar New Year holiday.
The move is aimed at heading off accommodation shortages, as rooms along Taiwan's picturesque coastline fill up fast during the New Year buildup.
Hotels and bed-and-breakfast establishments in the region are already reporting their room occupancy rates at 70 percent, with the plans of many Taiwanese already fixed for their upcoming six-day break.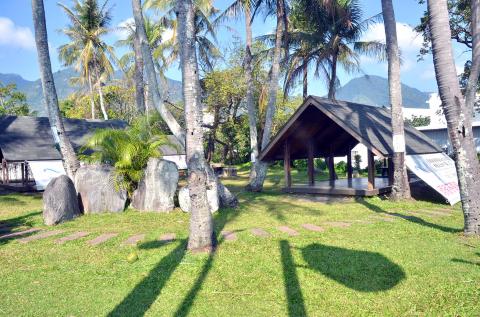 The sun shines on a camp site on Jan. 8 that has been set up next to the police precinct in Dulan Village in Taitung County's Donghe Township to help accommodate the influx of visitors during the Lunar New Year break.
Photo: Chen Hsien-yi, Taipei Times
The region's police said within their parks, travelers can pitch their tents for free, for 24 hours. However, there will be no reservations for the spaces, which will instead be available on a first-come, first-served basis.
Hot water and electricity will be provided.
Taiwan's east coast is an increasingly popular destination for visitors seeking natural attractions, especially for people living in the densely populated areas of the nation's western regions, with places like Greater Taitung offering the beauty of the mountains and the Pacific Ocean.
Dulan Village (都蘭), with its coconut trees, palm trees and sea breezes, is often said to resemble somewhere on a Southern Pacific island.
Dulan Police Precinct Chief Chan Hsun-chang (詹勳昌) said the facilities open to campers include wooden huts and simple camping facilities, with a nearby "moonlight observation deck" providing a good ocean view, with views even of distant Green Island (綠島).
Dulan's archeological site, a sugar production factory and a local artist community, which has taken root in the village over the past decade, are worth a visit, Chan said.
Police precincts in Zhangyuan (樟原), Changbin (長濱) and Duli (都歷) also plan to open up their grounds for camping during the Lunar New Year break.
"Each of these precincts has 16 to 20 camp sites. It will be first-come, first-served. No prior reservation will be accepted," Chan said.
"People looking to camp out can call our precinct ahead of time to find out availability," he added.
"We have police on patrol 24 hours a day, so the grounds are protected. We look forward to welcoming many visitors," Chan said.
"Staying overnight at a police precinct is not just for criminals," the police chief said.
With room reservation rates high, Chan expects the sites to be popular with travelers.
"For now, the idea is for free camping for one day, but we will permit two days maximum. We want to allow more people to enjoy this public service," Chan said.
"We hope to see travelers coming with their friends, and to spend their New Year holidays with us," he added.
Comments will be moderated. Keep comments relevant to the article. Remarks containing abusive and obscene language, personal attacks of any kind or promotion will be removed and the user banned. Final decision will be at the discretion of the Taipei Times.