Former Kinmen minefield now a tourist attraction
Known for decades as a heavily fortified bastion, the islands of Kinmen County are now seeing battlefields transformed into tourist attractions — and one of the biggest draws is a park centered on landmines.
Located on Little Kinmen, or Lieyu (烈嶼), the Landmine Theme Park has drawn thousands of visitors every month after opening in the middle of 2012, the Lieyu Township Office said.
The park, which was once a minefield, includes a tunnel filled with mines and warning signs from Taiwan, Cambodia and other countries to inform visitors of the area's dangerous past. Simulated images of Kinmen beaches covered in the mines give a glimpse into what locals once saw every day.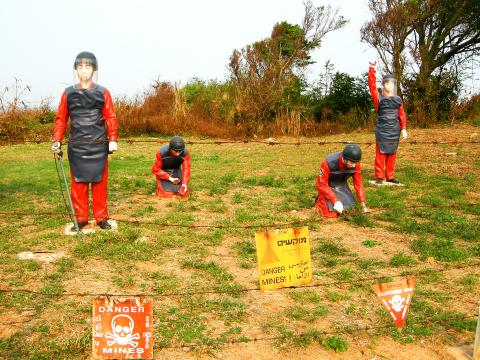 Life-sized mannequins illustrate mine-clearing operations at the Landmine Theme Park in Lieyu Township, Kinmen County, yesterday.
Photo: CNA
A "removal crew" of mannequins dressed in orange uniforms and protective gear gives a step-by-step demonstration of the delicate demining procedure.
The park represents a commitment to removing mines across Kinmen as the county aims at becoming a landmine-free place that appeals to tourists.
"Landmines are part of Kinmen's battlefield characteristics," said Hung Jui-hung (洪瑞鴻), head of the townshipce's tourism department.
The park aims to preserve "that special memory," Hung said.
Park officials plan to expand the park's walking trails and observatories, and to create a simulation of landmines buried in bushes.
"We hope it will help attract more tourists to Kinmen," Hung said.
Tens of thousands of mines were deployed around Kinmen County, which was on the frontline of Taiwan's defense against China throughout the Cold War.
However, as cross-strait tensions have eased in recent years, Kinmen has looked to capitalize on its military history by transforming itself into a "park in the war zone."
Comments will be moderated. Keep comments relevant to the article. Remarks containing abusive and obscene language, personal attacks of any kind or promotion will be removed and the user banned. Final decision will be at the discretion of the Taipei Times.