Taiwan's comic artists edge out Japanese rivals
HOMEGROWN TALENT: Comic books actually set in Taiwan are pulling legions of local fans who, for a long time, could only get their hands on Japanese comics
Despite strong competition from the Japanese, the works of several homegrown manga artists have made the bestsellers list for comics this year, establishing a footing in the competitive market.
According to statistics provided by local publishing houses, Taiwanese artists who saw their works sell more than 10,000 copies over the past year include Cory (顆粒), YinYin, Tsai Hung-chung (蔡鴻忠) and Wei Zong-cheng (韋宗成).
The year's most popular comic book has been Cory's Make a Wish, Daxi 3 (許個願吧!大喜), which sold about 12,000 copies, followed by San Yueh Tu's (三月兔) Scarlet Cross (緋色十字), Wei Lin's (林?萱) Chicken Cutlet Prince (雞排王子) and Wei's Taiwan National Army Act Corporation (新世紀國軍戰士).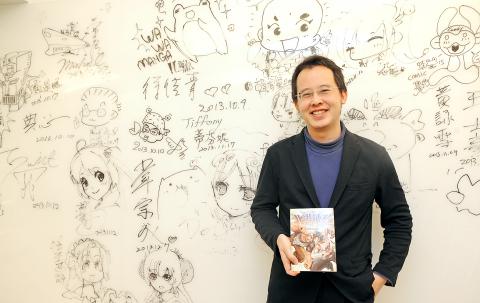 Taiwanese manga artist Li Lung-chieh poses with one of his comic books in front of a wall signed by fans in Taipei on Dec. 11.
Photo: Liu Hsin-de, Taipei Times
Comic books adapted from novels also reported stellar sales, with YinYin's End of Nightmare Island II (噩盡島) selling about 18,000 copies and Tsai's 1/2 Prince 13 (1/2王子) selling 12,000, the statistics showed.
Another bestselling manga artist is AKRU, whose work Pei Cheng Pai Hua Tieh II (北城百畫帖) — a story about the bizarre events at a coffee house in northern Taiwan during the Japanese occupation — has sold about 12,000 copies since its release on Nov. 27.
Enthusiast Hung Jui-wen (洪瑞文) said his passion for manga began when he was little and that it had grown in recent years after he started reading Taiwanese artists and fell in love with stories set in Taiwan rather than Japan, drawing on local culture.
Gaea Books Co comic division editor-in-chief Lee Ya-lun (李亞倫) said with the nation's manga market shifting its focus, sales of Taiwanese works has increased steadily over the past few years.
A manga devotee said the earliest pioneers of Taiwanese comics born in the 1950s and 1960s had caused a frenzy when their works were first published, with 48-year-old Lin Cheng-te's (林政德) Young Guns being the most well-known.
"However, there was a shortage of manga talent in this country until the recent emergence of comic artists born in the 1980s, and we are now likely to see a new craze," the fan said.
Chiu Hsiao-yu (邱小祐), director of Sharp Point Publishing Group's marketing and promotion division, said local publishers have inclined more toward Taiwanese manga artists "partly because of the rising Japanese loyalty costs and the approvals required for each product," Chiu said.
"A fundamental change is occurring in the comic market," she said.
Comments will be moderated. Keep comments relevant to the article. Remarks containing abusive and obscene language, personal attacks of any kind or promotion will be removed and the user banned. Final decision will be at the discretion of the Taipei Times.