First Amis Music Festival held in Taitung County
SUSTAINABLE LIVING: The festival organizers hope to stimulate tribe-oriented economic development which will allow young Amis to continue to live in their home towns
With a mix of traditional and pop music, Amis Aborigines native to Taitung County and guest musicians from other tribes gathered at the Amis village of A'tolan yesterday for the first Amis Music Festival.
"It has always been my dream to hold a concert in my hometown, and now that dream has come true. It's not just a concert, but a music festival," Golden Melody Award-winning singer-songwriter Suming Rupi (舒米恩·魯碧), a native of A'tolan, told the crowd at the music festival.
"I'm proud to have organized this music festival with my fellow villagers, and implant elements of the Amis and A'tolan culture in the performances," he said.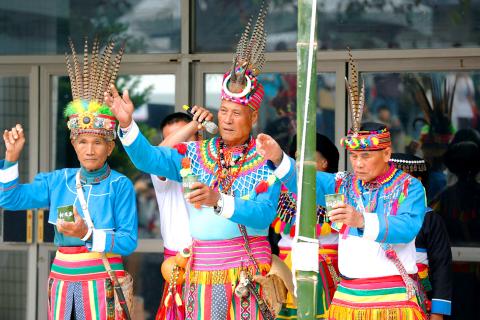 Elders in the Amis village of A'tolan in Taitung County perform a traditional ritual yesterday to bless the Amis Music Festival.
Photo Courtesy of the Suming Studio
"Through the performances of my tribesmen, their handicraft, local specialties and cuisine, I hope everyone who traveled from afar to take part in this music festival will enjoy the village's beautiful way of life, while also creating tribe-oriented economic development that will keep young Amis in their home villages," he said.
The festival started around midday with a ceremony to raise the festival's flag, followed by a traditional ritual to bless the event performed by three elders in the village, Halu, Panay and Sofin.
"Prior to the music festival, Suming visited everyone in the village — young and old — to seek our support, and we would also like to give our best wishes to the event," Halu said. "I would like to take this chance to tell all the young people here to look after their elders and learn our culture."
After the ritual, A'tolan villagers invited the hundreds of festival-goers to join them for a Malikoda, a traditional Amis group dance.
Many popular Aboriginal singers and bands — including A-lin (real name Huang Li-ling, 黃麗玲) Dakanow (達卡鬧), Matzka (瑪斯卡) and Totem (圖騰樂團) — performed at the music festival.
Audience members were in tears when Suming sang I am Singing Over There (我在那邊唱), which recounts his story of leaving his hometown, searching for the way to go home and finally returning home.
The Amis Music Festival is part of efforts by Amis in Taitung to promote tourism and develop the local economy based on their traditional culture, following campaigns opposing large-scale development projects, such as the controversial Miramar Resort Village construction project on Taitung County's Shanyuan Beach (杉原沙灘).
Comments will be moderated. Keep comments relevant to the article. Remarks containing abusive and obscene language, personal attacks of any kind or promotion will be removed and the user banned. Final decision will be at the discretion of the Taipei Times.