Film inspired by sounds of Taiwan has premiere
"If the day ever comes when my eyes can no longer see, at least I will be able to rely on sounds to draw a mental picture of the world," said Lee Pai-wen (李百文), who has traveled to 168 townships to record the sounds of "the variety of beauty" across Taiwan.
The 38-year-old audio engineer began her quest after her vision began to deteriorate because of severe floaters (small moving spots in your field of vision) about three years ago.
Lee said she had dreamed of a career in the arts since she was little, and although she ended up majoring in electrical engineering at college, she continued to pursue her dream for almost 10 years after graduation.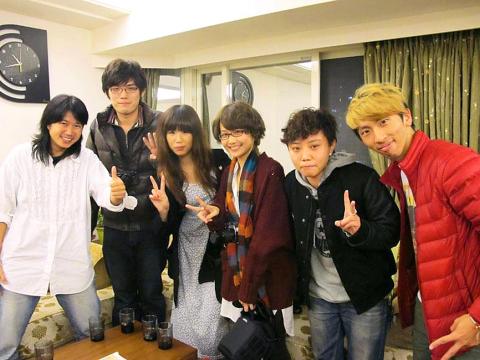 Students from Jinwen University of Science and Technology's Department of Visual Communication Design pose with sound recordist Lee Pai-wen, left, the subject of their short film Hear About Taiwan, in Taipei on Friday last week.
Photo: Hung Hsu-tung, Taipei Times
Her efforts paid off about five years ago when she landed a job as a music supervisor for video games.
That experience gave her the training to become a sound recordist and then an audio engineer.
Lee seemed to be living her dream until she was diagnosed with severe floaters.
The diagnosis could have crushed Lee, but instead it spurred her to embark on a mission to record the sounds that best represent Taiwan and produce a CD to help visually impaired people "see" the nation through their ears.
Her efforts inspired students from the visual communication design department at Jinwen University of Science and Technology, who have turned Lee's story into a 13-minute documentary, Hear About Taiwan (聽見北緯23度半).
The students made an eight-month-long trip around the country, which cost them about NT$200,000, to film the footage.
"The film features some of the sounds Lee has recorded, including the sounds of sea salt farmers collecting salt in Greater Tainan's Beimen District (北門) and of iron ox-carts traveling on countryside roads, all of which symbolize Taiwan's vitality and cultural diversity," said Hung Hsu-tung (洪旭東), who directed the film.
The students received funding from the Ministry of Economic Affairs' program for local industrial development and were also aided by the Taipei City Government's Department of Economic Development.
Hear About Taiwan premiered on Friday last week during the three-day "Exhibition of Original Digital Products" in Taipei.
Comments will be moderated. Keep comments relevant to the article. Remarks containing abusive and obscene language, personal attacks of any kind or promotion will be removed and the user banned. Final decision will be at the discretion of the Taipei Times.