Artist donates work for Swaziland aid project
Famed painter Chen Ching-jung (陳景容) last month donated one of his works to be auctioned off in the hopes of raising NT$1 million (US$33,740) to help Changhua Senior High School fulfill a promise to help build a drinking water and irrigation reservoir in Swaziland.
Lu Hsing-chung (呂興忠), the school's head librarian, said students made the pledge at this year's youth leadership meeting in Greater Tainan.
The reservoir would cost a total of NT$7 million and students from six nations — Taiwan, the US, South Korea, Canada, Kenya and Japan — have already raised NT$2 million over the past two years through projects and fundraisers, he said.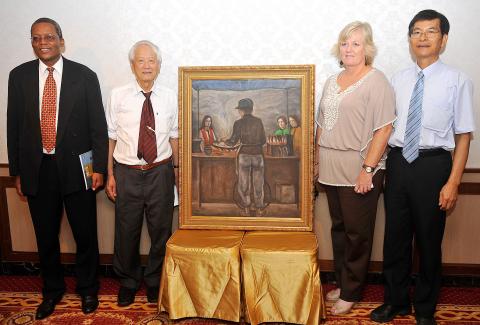 Painter Chen Ching-jung, second left, poses next to his painting Night Market on Oct. 30, along with Hezekiel Dubethe, first secretary at the Swaziland embassy, left, Janine Maxwell, co-founder of Heart for Africa, second right, and Lu Hsing-chung, Changhua Senior High School's head librarian.
Photo: Chien Jung-fong, Taipei Times
Lu said the students hoped to raise the necessary funds by the end of this year.
Aside from donating the proceeds from the sale of the donated painting, titled Night Market, Chen said he would also give a part of his income from a solo exhibition organized by Changhua County's Bureau of Culture.
The reservoir is designed to hold more than 300 million liters of water and would supply more than 100,000 people. It is expected to be of great help to Project Canaan, run by the Heart of Africa organization founded by Janine Maxwell and her husband, Ian.
Project Canaan is a 1,000 hectare sustainable farm built to house and care for children orphaned by AIDS, and to provide training and employment for the community while growing food.
The link between the Chuanghua school and Project Canaan was formed when Janine Maxwell met a friend of Lu's when a group of volunteers from the school were in Swaziland.
Wang Wen-chang (王文昌), head of the Wenlin branch of Rotary International, which will help auction off Night Market, said he hoped the painting could be sold within the next two months.
Chen's works have been collected by museums, including the Louvre in Paris. Despite the high prices he can command, Chen likes to use his art to help others.
Over the past five years, Chen had painted a large lacquer mural for the Mennonite Christian Hospital in Hualien, the proceeds of which were donated to the victims of the 921 Earthquake which struck Taiwan on Sept. 21, 1999. Chen's Blessing of the Lord (耶穌的祝福) sold for NT$5 million, which he donated to churches affected by the March 11, 2011 quake and tsunami in Japan.
The artist has said that life is short and he wants his paintings to help people.
Comments will be moderated. Keep comments relevant to the article. Remarks containing abusive and obscene language, personal attacks of any kind or promotion will be removed and the user banned. Final decision will be at the discretion of the Taipei Times.