President urges unity in KMT ahead of polls
President Ma Ying-jeou (馬英九) yesterday urged the Chinese Nationalist Party (KMT) to be unified and spare no efforts to score victories in the seven-in-one elections next year as the party discussed the nomination procedures for the elections.
"The KMT will face tough challenges in next year's elections, and we must strive for the biggest victory," he said yesterday when presiding over the KMT's Central Standing Committee (CSC) at KMT headquarters.
The seven-in-one elections will be held for all directly elected local government positions: special municipality mayors and councilors; county commissioners and city mayors; county and city councilors; township mayors and councilors; and borough and village wardens.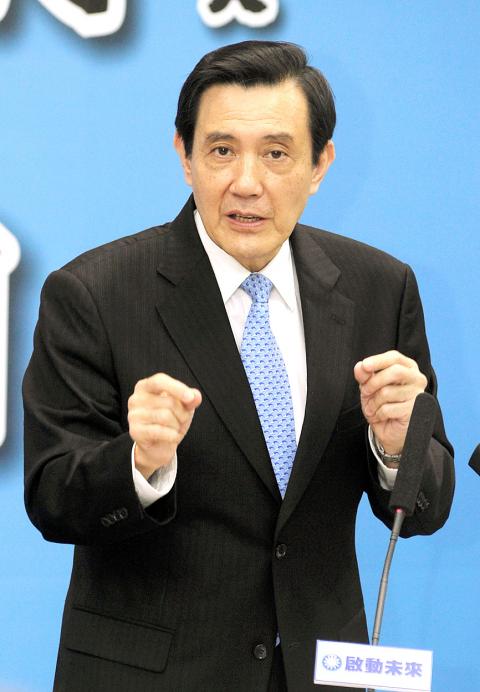 President Ma Ying-jeou yesterday calls for Chinese Nationalist Party (KMT) unity during a Central Standing Committee meeting in Taipei.
Photo: CNA
In the first-phase candidate nomination procedures released by the KMT yesterday, hopefuls who intend to run in the elections can claim a registration form with the party on Nov. 20 and Nov. 21, and start collecting signatures from party members for nomination until Nov. 29.
The KMT will conduct polls on candidates from Dec. 6 through Dec. 20, and invite party members to cast votes on hopefuls on Dec. 21. The party will rely on both public polls and votes from members to determine its candidates, and will release the results on Dec. 21.
A final nomination list will be presented to the CSC on Dec. 25 for approval.
Speaking at the committee following Sunday's party congress, Ma said the ending of the congress is the beginning of party reform, and that the revisions of party regulations highlighted the KMT's determination to pursue continuous reform.
The revisions, which stipulate the nation's president should also serve as KMT chairman and extended the CSC election from one year to two years, facilitated the party's operation, he said.
Ma, who is assured of his position as chairman until the presidential election in 2016 under the revised regulations, defended the revisions, saying they were passed unanimously at the congress.
"Everyone agreed that Sunday's party congress was a very successful one, and the KMT must enhance unity and continue with reforms so that we can still be the ruling party in the future," he said.
Comments will be moderated. Keep comments relevant to the article. Remarks containing abusive and obscene language, personal attacks of any kind or promotion will be removed and the user banned. Final decision will be at the discretion of the Taipei Times.