Teenager hacked Web sites globally
WORRYING TREND: Police said they are apprehending ever-younger hackers who break the law, and said sites must be kept safe or they can also break the law if hacked
New Taipei City (新北市) police on Tuesday arrested a 16-year-old high-school student who allegedly hacked more than 1,237 Web sites across the globe and was ranked 19th in the world on the Global Hack Website Statistics site.
According to the police department's criminal investigation division, the teenager, surnamed Hsu (許), who uses the online name "XerL9meI," began hacking Web sites in July this year and had hacked into the Web sites of Kinmen County's education bureau, National Central University, Tamkang University and private corporations, as well as government agencies in China and India.
Hsu was quoted by police as saying that he learned how to hack Web sites by reading books and buying certain computer programs, and he thought his IP address could not be traced. The police said they were able to trace him to his IP address through messages he left on the Web sites he had hacked.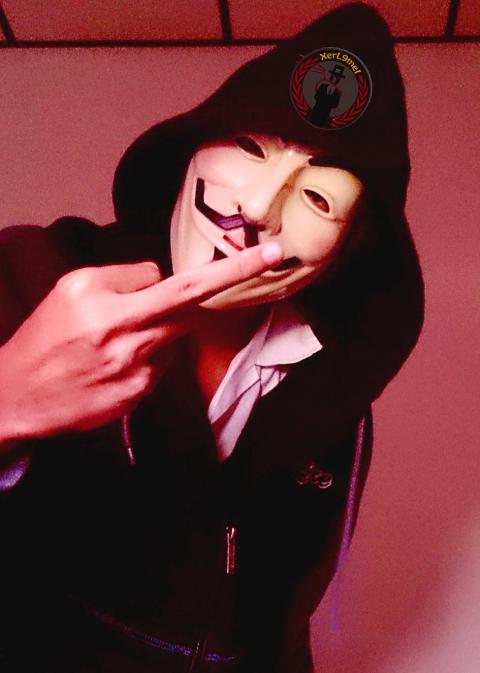 An undated photograph posted on FaceBook by a 16-year-old high-school student hacker who was arrested by New Taipei City police on Tuesday. The hacker used the photograph to highlight that a Web page had been hacked.
Photo: Wu Jen-chieh, Taipei Times
According to police, Hsu looked for loopholes in Web sites' SQL coding language and used them to bypass firewalls and obtain administrator privileges by cracking the passwords. He then uploaded his trademark message, which read: "You got hacked by XerLme9," along with a warning that the Web site was unsafe.
While Hsu was quoted by police as admitting to hacking the Web sites, which would be a violation of Article 358 of the Criminal Code if prosecutors decided to press charges — punishable by three years in prison, detention or more than NT$100,000 (US$3,400) in fines — he said he was only a "gray hat hacker" who wished to remind the corporations he had hacked that their Web sites' information security had loopholes.
Head of the criminal investigation division Lu Yue-cheng (呂岳城) said that though Hsu's actions — having hacked the national land resources Web site of the Ruzhou city government in China's Henan Province — could be considered an anti-United Front (統戰) act, it was nonetheless illegal.
The police had released Hsu into the custody of his grandparents, who are his legal guardians because Hsu's parents had separated when he was very young and his father is in a vegetative state after a car accident last year.
Hsu's grandparents said Hsu did not do well in school and often cloistered himself in his room, adding that they did not really know what he was up to.
"We would like to thank the police for nipping the flower in the bud, so to speak," they said, adding that they would keep an eye on Hsu and try not to let him sink any deeper into the world of hacking.
As the arrest had been the second of a teenaged hacker in Taiwan, after the arrest of a 14-year-old youth in Taoyuan County last year, the New Taipei City police department's criminal investigation division expressed concern about the trend of ever-younger hackers being apprehended.
The youths might glorify other hackers, or may simply want to prove themselves or have something to brag about, the police department said, adding that in the information age, access to hacking-related books and computer programs was too easy.
"We fear that more juvenile hackers would start to try their hand at hacking in the future," police officers said, issuing a call for governmental and private organizations to reinforce their Web sites' information security.
Police said that if members of the public's personal data were extracted by hackers from organizations' data banks, the organizations would be held complicit for violating the Personal Information Protection Act (個人資料保護法).
Comments will be moderated. Keep comments relevant to the article. Remarks containing abusive and obscene language, personal attacks of any kind or promotion will be removed and the user banned. Final decision will be at the discretion of the Taipei Times.