Taiwan celebrates first Girls' Day
GENDER INEQUALITY: Activists targeted examples in traditional culture, like pressure to find 'a good husband,' as one of the major roadblocks to the empowerment of girls
Oct. 11, the International Day of the Girl Child declared by the UN in 2011, is now officially designated as "Taiwan Girls Day," the Ministry of Health and Welfare said yesterday, joining the cause of recognizing girls' rights and the importance of the empowerment of and investment in girls.
Deputy Minister of Health and Welfare Tseng Chung-ming (曾中明) told a press conference in Taipei celebrating the first observance of the day that while Taiwan has shown much progress toward achieving gender equality in the past years, there is a lot more to be done.
He said that prenatal gender testing [for sex-selective abortion] is still a problem in the country.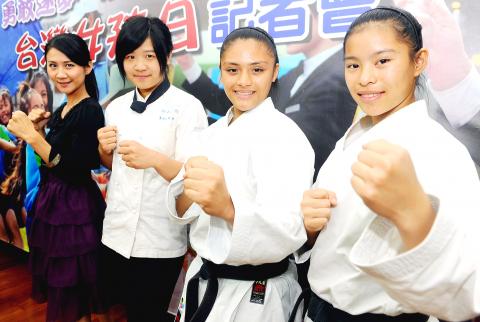 Some participating girls pose for a picture after they told their life stories to encourage other girls to pursue their dreams at a ceremony in Taipei held by the Ministry of Education to celebrate Taiwan Girls' Day.
Photo: Chang Chia-ming, Taipeu Times
According to the ministry's data, the male-to-female sex ratio of newborns in the nation has always been higher than the average 1.05 to 1.06 reported by many other countries. And while the ratio has been down to 1.079 in 2011 from 1.09 in 2010, the sex ratio for women's third birth and beyond is as high as 113.4 boys to every 100 girls.
An initiative to promote girls' rights was announced by the Executive Yuan in March, incorporating resources of the government bodies in education, social affairs, law, communication, and health and welfare to tackle gender inequality on four major fronts — physical and psychological wellbeing, education and human capital investment, security and protection, and culture, in areas like mass media and traditions.
Female representatives from various walks of life at the press conference shared similarly unpleasant experiences when it came to the traditional views about girls, such as parents-in-law preferring a grandson or showing disfavor toward daughters or granddaughters, people saying there is no need for girls to be highly educated, or the view that women only need to worry about how to find themselves a good husband.
End Child Pornography and Trafficking of Children for Sexual Purposes Taiwan secretary-general Lee Li-feng (李麗芬) said women are still being confronted by gender-based obstacles and called for a change in values, beginning with parents.
"Girls do not have to be treated as princesses, as they can be warriors who want to fight for their careers. They do not necessarily want or need Barbies, as they might like cars and dinosaurs better," Lee said.
Comments will be moderated. Keep comments relevant to the article. Remarks containing abusive and obscene language, personal attacks of any kind or promotion will be removed and the user banned. Final decision will be at the discretion of the Taipei Times.