Kite festival draws crowds to New Taipei City beach
The sky above New Taipei City's (新北市) Baishawan (白沙灣) was brightened by kites of all shapes and colors last weekend as more than 60,000 visitors thronged to the beach to enjoy the sun, ocean and the New Taipei City North Coast International Kite Festival.
According to the city's Cultural Affairs Department, the organizer of the event, the two-day festival featured 150 kite enthusiasts from countries including Japan, South Korea, Thailand, Vietnam, Portugal, Sweden, New Zealand and Malaysia.
Scores of multicolored kites were flown on Saturday to mark the opening of the festival, including rainbow-colored kites in the shape of roller blades and an octopus by New Zealand kite designer Peter Lynn.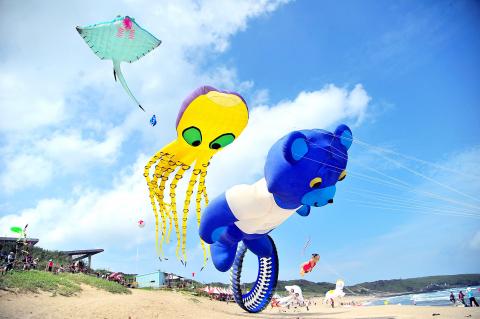 Giant kites fly over Baishawan beach in Shihmen District during the New Taipei City North Coast International Kite Festival on Sunday.
Photo: CNA, courtesy of the New Taipei City Government
There was also a kite depicting a bottle of vodka by Swedish kite flyer Andreas Agren.
New Taipei City Mayor Eric Chu (朱立倫) and several other local politicians attended the event's opening ceremony, which culminated with a "kite puppet show," in which two kites depicting Shih Yan-wen (史豔文) and Tsang Ching-jen (藏鏡人), two of the most famous characters created by traditional glove puppet artist Huang Chun-hsiung (黃俊雄), "engaged in a martial arts contest" in the air.
To go with this year's theme — "Finding Real Happiness" — the organizers customized a pink-colored kite for a young man who got down on one knee at the festival on Saturday to propose to his girlfriend of 12 years.
Other highlights included a number of giant ladybug sculptures that were installed all over the beach, which came in several colors including orange, pink, blue and green.
Comments will be moderated. Keep comments relevant to the article. Remarks containing abusive and obscene language, personal attacks of any kind or promotion will be removed and the user banned. Final decision will be at the discretion of the Taipei Times.