Ma holds policy meeting without Wang Jin-pyng
'NECESSARY ADJUSTMENTS': KMT caucus whip Lin Hung-chih took Wang's place at the meeting, and the Presidential Office said Ma would not change his stance
President Ma Ying-jeou (馬英九) yesterday held a party-government policy meeting with four top officials from the legislative and administrative branches in place of the suspended weekly meeting of "the committee of five," with Chinese Nationalist Party (KMT) caucus whip Lin Hung-chih (林鴻池) attending instead of Legislative Speaker Wang Jin-pyng (王金平).
"My duty [as whip] is to take charge of communications and negotiations between the government and the ruling party, serving as a bridge between the legislative and administrative branches and seeking to forge consensus within the party," Lin said when approached by reporters before attending the meeting.
Lin said the party-government policy meeting was a platform through which he could further facilitate communication between the two branches and give constructive advice on major policy matters.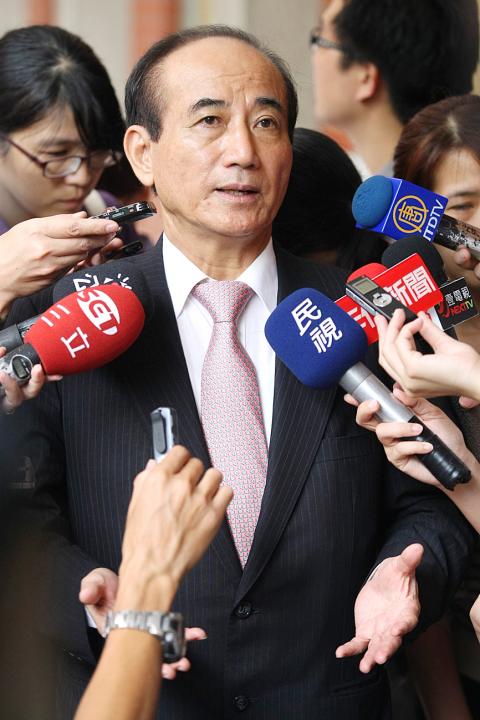 Legislative Speaker Wang Jin-pyng talks to reporters in Taipei yesterday after a Chinese Nationalist Party (KMT) party-government meeting was held without his participation.
Photo: CNA
"There is absolutely no such thing as me replacing Speaker Wang," Lin said.
Lin attended the meeting as representative of the legislative branch, a role originally served by Wang before Ma and the KMT, of which the president is chairman, made "necessary adjustments" to meetings in which Wang had been participating after his KMT membership was revoked on Sept. 11 for his alleged improper lobbying on behalf of Democratic Progressive Party caucus whip Ker Chien-ming (柯建銘) in a legal matter.
The adjustments include suspension of the weekly Monday meeting of the committee of five — which comprises Ma, Wang, Vice President Wu Den-yih (吳敦義), Premier Jiang Yi-huah (江宜樺) and KMT Secretary-General Tseng Yung-chuan (曾永權) — and the exclusion of Wang from tea gatherings including Ma and lawmakers held before the opening of the new legislative session last week.
Presidential Office officials have said that Ma would not change his zero-tolerance stance on Wang's alleged improper lobbying, and would continue to make necessary changes to activities outside the constitutional structure that Wang had been taking part in.
Ma's moves to exclude Wang from decisionmaking meetings have been seen by many as blatantly defying a Sept. 13 Taipei District Court ruling in favor of Wang's provisional injunction seeking to retain his party membership and rights until the case is settled in court.
Comments will be moderated. Keep comments relevant to the article. Remarks containing abusive and obscene language, personal attacks of any kind or promotion will be removed and the user banned. Final decision will be at the discretion of the Taipei Times.