Chiayi prosecutors indict Helen Chang on graft charges
Chiayi County Commissioner Helen Chang (張花冠) of the Democratic Progressive Party (DPP) has been indicted on corruption charges on suspicion of receiving NT$30 million (US$1 million) from a contractor, the Chiayi District Prosecutors' Office announced yesterday, adding that a heavy sentence had been requested.
Chang later told a press conference that she had not been surprised by the indictment, which she said was groundless and politically motivated.
The prosecutors' office said the investigation centered on the Dapumei (大埔美) Intelligent Industrial Park at the Dapumei Herbs Park, which was a build-operate-transfer (BOT) project. Chang was suspected of asking and receiving the NT$30 million from a contractor, Chun Lung Development Co chairman Pan chung-hao (潘中豪), who won the BOT tender, the office said.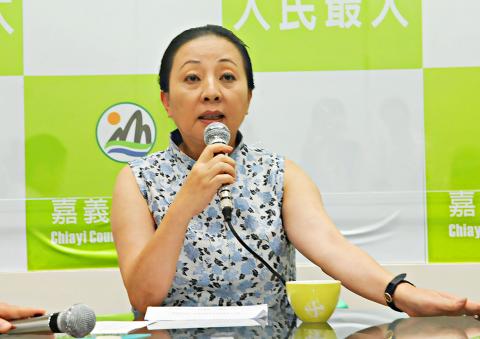 Chiayi County Commissioner Helen Chang tells a press conference yesterday that she was not surprised by her indictment on corruption charges by the Chiayi District Prosecutors' Office. The Democratic Progressive Party politician said the charges were politically motivated.
Photo: CNA
Chang allegedly used a third party's bank account to receive the money from Pan, and had an assistant withdraw the money in small amounts to avoid the bank's reporting the transactions to the Ministry of Justice's Investigation Bureau as possible money laundering as required by law, the office said.
Prosecutors said Chang has denied taking a bribe and said Pan had lent the money to her late husband, former Chinese Nationalist Party (KMT) legislator and businessman Tseng Chen-nung (曾振農), and that the money was given to Tseng through a man surnamed Chou (周).
Prosecutors said Chang had not provided Chou's full name, while Pan said he did not know Tseng. Pan was also indicted.
In August last year, 13 prosecutors from the Chiayi office led 150 bureau agents to search Chang's residence, county government offices, her daughter's residence and other targets.
DPP Legislator Chen Ming-wen (陳明文), a former Chiayi county commissioner, and former Council for Economic Planning and Development vice chairman Chang Ching-sen (張景森) have also been linked to the case, but were not indicted yesterday.
This is not the only legal challenge facing Helen Chang. She and her sister, Chang Ying-chi (張瑛姬), were indicted by prosecutors in Greater Kaohsiung in December last year on charges of corruption, violating the Government Procurement Act (政府採購法) and leaking confidential information in three separate cases.
Additional reporting by staff writer
Comments will be moderated. Keep comments relevant to the article. Remarks containing abusive and obscene language, personal attacks of any kind or promotion will be removed and the user banned. Final decision will be at the discretion of the Taipei Times.