FEATURE: Heartbreak led man to edify nation
POWER OF LOVE: Having introduced many Western classics to Taiwan during the authoritarian era, Lin Heng-zhe said unrequited love was what set his path
With Taiwan oppressed under authoritarian rule in the 1970s, the literary efforts of then-National Taiwan University medical student Lin Heng-zhe (林衡哲) made one of the first cracks in the closed society of the time by introducing the thoughts of Western philosophers to the nation.
However, this impressive breakthrough — and Lin's subsequent creation of a series of books that have introduced more than 500 Western classics to Taiwanese over the past four decades — was all due to a teenage crush.
While in his first year as a medical student at the university, Lin said he met a student from the Taipei First Girls' High School at a bookstore and then again at a concert.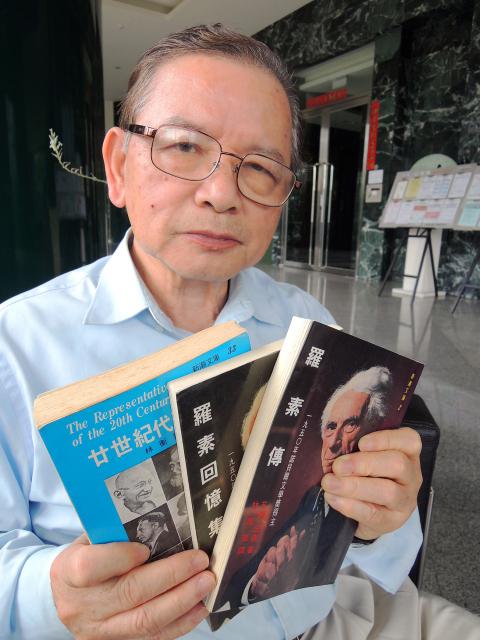 Physician Lin Heng-zhe on July 21 displays Western books that he translated for the Modern Library series.
Photo: Hsieh Wen-hua, Taipei Times
"She was beautiful. Dressed in a pure-white gown, she looked like an angel on earth," Lin said, adding that he was inspired to emulate Dante Alighieri and write something to show her his love.
Dante compiled The New Life, a collection of love poetry written over a period of about 10 years, to pay tribute to Beatrice Portinari, his lifelong love, in 1295.
Lin decided to write a music critique to get his love's attention because she adored music.
Over four years, Lin wrote more than 70,000 words of musical critiques before he learned that his crush had someone else in her life.
Devastated, Lin said that at first, he thought his romantic rival had to at least be better-looking, but eventually found that the other man was "as short as me," adding that he "felt she had chosen the wrong man."
At the time, he was reading the works of Chinese philosopher and essayist Hu Shih (胡適) and had come across a famous epigram by Hu that said: "Instead of misleading students in class, it would be a greater contribution to translate a world classic."
Lin said he laid aside his personal feelings, quit all his tutoring sessions and dedicated an entire summer to translating Wisdom: Conversations with the Elder Wise Men of Our Day (當代人物智慧訪問錄) by James Nelson. Once finished, he gave the manuscript to Wen Hsing Publishing, which printed it.
Encouraged by his initial success, he then translated Bertrand Russell's Portraits From Memory And Other Essays and once again approached Wen Hsing to publish it, but the company's owner, Hsiao Meng-neng (蕭孟能), told Lin it was best to find another publisher because Wen Hsing was being monitored by the then-Chinese Nationalist Party (KMT) regime.
Lin said he eventually managed to persuade Chang Ching-chi (張清吉), the owner of Chih Wen Publishing, to print a series of books titled Modern Library (新潮文庫), under which he published the Russell translation and others.
The series picked up where Lin left off and over the past 40 years has brought works on literature, philosophy, music, cinema and art by intellectual greats such as Freud, Sartre, Tolstoy, Schweitzer, Kierkegaard, Homer, Plato and Maupassant to Taiwanese readers.
Using the money he earned through his translations, Lin left for the US, but has always kept his home in his mind, even after he was blacklisted by the KMT government for publishing books that had been banned in Taiwan in the US.
Lin said that as a child, he had grown up thinking of China as his ancestral home and place of origin, but after reading The Fig Tree (無花果) by Wu Cho-liu (吳濁流), he started to understand Taiwan and the 228 Incident.
The Incident refers to a brutal crackdown by the then-KMT regime that began on Feb. 27, 1947, against tens of thousands of people — many of them members of the intellectual elite — which ushered in the White Terror Era.
"It was then that I began to become conscious of my Taiwanese heritage," Lin said, adding that this led him to publish books about the Incident in the US, which got him on the government black list.
Lin said that being blacklisted meant he was unable to see his father one last time before he passed away, adding that his father had told him not to risk coming back.
"Seeing your picture is the same as seeing you," Lin remembered his father telling him.
Lin has also translated many autobiographies and said that of these, the only one that made him cry was that of Yoichi Hatta.
Hatta was a Japanese hydraulic engineer who designed the Chianan Canal (嘉南大圳) and Wushantou Reservoir (烏山頭水庫) in Taiwan during Japanese rule. Lin said he had been very moved by the devotion of Hatta's wife, who drowned herself in the reservoir after her husband passed away.
Lin said he wished that Oscar-winning Taiwanese director Ang Lee (李安) would make a movie about the Hattas' story.
Just as he managed to introduce bits of the West into Taiwan, Lin has also sought to bring elements of Taiwanese culture to the US.
To this end, Lin founded the Taiwan Library in southern California, where he holds a Taiwanese Culture night each year to introduce Taiwanese musicians to US citizens, as well as to attendees from other nations.
The 74-year-old Lin smiled when thinking about the impetus that started him off on his path and said that love had always been a great motivator across the ages.
Thinking about the girl he had pined for all those years ago, Lin said she had ultimately been better off marrying a man who was able to give her all his love, since "I can only give half my heart to another because I have already given the other half to preserving and promoting Taiwanese culture."
Comments will be moderated. Keep comments relevant to the article. Remarks containing abusive and obscene language, personal attacks of any kind or promotion will be removed and the user banned. Final decision will be at the discretion of the Taipei Times.