Foundation urges action on rabies
The Consumers' Foundation yesterday called on the public to educate themselves about rabies and for the government to come up with effective preventive measures and preparations in order to curb the spread of the rabies infection.
In light of the recent panic triggered by the reappearance of rabies, which had not been reported in Taiwan for more than half a century, but has been recently found in Formosan ferret-badgers, the foundation urged the public to move beyond the general conceptions that rabies is transmitted only by dogs and that it is 100 percent fatal.
All mammals, including humans, dogs, cats, cows, horses, goats and wild animals, are susceptible to rabies infection, said the organization, and rabies can be transmitted through bites or contact (via mucus in the eyes or mouth) with the virus-containing saliva of the infected animals.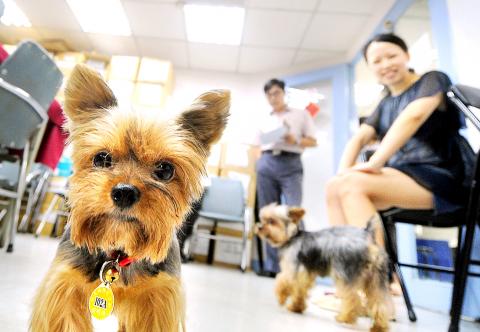 A dog wears a rabies vaccination tag at a veterinary clinic in Taipei yesterday as the Consumers' Foundation urged the government to actively promote the use of tracking chips and to develop rabies vaccines for dogs and cats.
Photo: Fang Pin-chao, Taipei Times
Immediate appropriate attention to a bite, which requires a wound to be cleaned for 15 minutes with water and a dilute water povidone-iodine solution, as well as post-exposure prophylaxis can prevent the onset of symptoms and death, the foundation added.
The foundation also questioned the government's efforts on microchip implants for pets.
While the number of pet dogs was estimated by the Council of Agriculture in 2011 at 1.53 million, and the number of pet cats to be 370,000, and the number of stray dogs was estimated to be about 85,000 in 2009, the most recent numbers are unavailable, the foundation said, adding that it is only when the government has the correct numbers can the amount of facilities and vaccine doses needed can be accurately calculated.
And although the council has been requiring pet owners to microchip their dogs in accordance with the Animal Protection Act (動物保護法), it has failed to follow up on and ensure the execution of the practice, the foundation claimed, adding that this has left the council unable to gauge the exact number of pet dogs or the immunization coverage among them.
The foundation also said that pet cats have been left out of the microchip policy implementation, rendering them a potential prevention loophole.
It also advised the government to develop and manufacture rabies vaccines in Taiwan, saying that relying on imports was not an optimal solution should the outbreak turn out to be a long-term problem.
Comments will be moderated. Keep comments relevant to the article. Remarks containing abusive and obscene language, personal attacks of any kind or promotion will be removed and the user banned. Final decision will be at the discretion of the Taipei Times.