CYC continues to focus on the nation's young people
The China Youth Corps (CYC) has no plans to slow down on its mission to spread love and joy to the younger generation after more than six decades, said Lin Huan (林寰), secretary-general of the corps' Taoyuan County Task Committee.
"The CYC has been holding summer camps for young people for 61 years," Lin said.
Lin said the organization provides an array of recreational and educational activities from cultural and creative courses, to ecology workshops, experimental learning activities and outdoor adventure programs.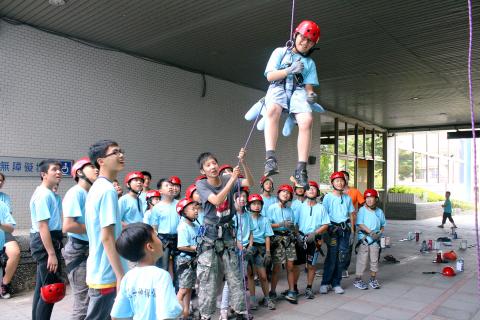 Youngsters learn abseiling skills during a summer camp run by the Taoyuan County Task Committee of the China Youth National Salvation Corps in Taoyuan County on July 28.
Photo: Lee Jung-ping, Taipei Times
In recent years it has run a number of summer camps for elementary-school children, Lin said, including creativity training camps, comic book camps and crime-solving camps.
"All of these activities are designed to help young children achieve three things: Make new friends, obtain new knowledge and experience an innovative way of life," Lin said.
The corps was established on Oct. 31, 1952 — under the name the China Youth Anti-Communists Nation Salvation Corps — by former president Chang Ching-kuo (蔣經國) on the recommendation of his father, then-president Chiang Kai-shek (蔣介石), to offer military training to high-school and college students.
After the lifting of martial law in 1987, the corps was turned into a non-governmental youth education group in 1989 and its name was changed in 2000 to the China Youth National Salvation Corps.
The corps occupies an important spot in the memories of most Taiwanese born in the 1950s and 1960s, including Hung Lien-ching (洪連慶), a teacher at National Wu Ling Senior High School.
Hung said he signed up for a CYC summer camp when he was a student and the experiences he had at the camp led him to become a permanent volunteer worker for the organization.
"Young students in those days did not have many pastimes since Taiwanese society was a closed society back then. When thinking about how to spend our two-month-long summer vacation, the group's popular summer camps, such as the hiking camp on the Central Cross-Island Highway and the Matsu and Kinmen combat camps, were usually the first things we thought of," Hung said.
Comments will be moderated. Keep comments relevant to the article. Remarks containing abusive and obscene language, personal attacks of any kind or promotion will be removed and the user banned. Final decision will be at the discretion of the Taipei Times.