New alliance aims to stop nuclear plant with votes
Several civic groups yesterday announced a new alliance dedicated to permanently ending the construction of the Fourth Nuclear Power Plant in Gongliao (貢寮), New Taipei City (新北市), by soliciting votes in a national referendum proposed to decide the plant's fate.
Since the referendum proposal is on the agenda of the extra legislative session called by the Chinese Nationalist Party (KMT) caucus that starts today, representatives of civic groups said they are ready to mobilize people to vote against completing the facility.
Humanistic Education Foundation chairman Shih Ying (史英) said that since all previous national referendums have failed to meet the threshold of half of all eligible voters — about 9 million voters — needed to be pass and the nuclear issue is one that concerns all Taiwanese, it was crucial to solicit enough votes to abort the plant's construction and operation.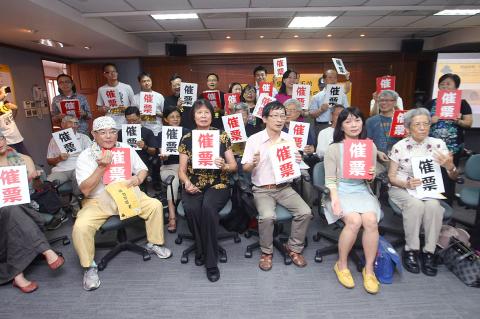 Members of civic groups that formed a new alliance to get votes against the Fourth Nuclear Power Plant yesterday hold up signs reading "Pushing for votes."
Photo: CNA
"If 100,000 of the 300,000 people who attended the anti-nuclear power demonstrations held on March 9 each solicit 10 votes against the Gongliao plant, that makes 1 million votes," he said, adding that this million could make the difference in validating the referendum.
"If we can't stop the referendum from being held, then let it be held sooner because we are ready to turn it into an anti-nuclear national movement. Just wait and see," said theater director Ko I-chen (柯一正), a frequent participant in anti-nuclear demonstrations who constantly urges the public express their concerns about atomic energy.
National Taiwan University Hospital physician Ko Wen-je (柯文哲) said that while some people think the 2011 Fukushima Dai-ichi nuclear power plant disaster occurred only because a tsunami and an earthquake struck Japan, local anti-nuclear groups need to remind the public that Taiwan is hit by such natural disasters just as frequently as Japan.
"The government should think carefully about whether it can withstand the consequences of a Cabinet overthrow if anti-nuclear groups solicit more than of all eligible voters to strike down the plant via the referendum," he added.
The creators of the alliance comprised representatives from 27 civic groups and individuals such as musicians, artists and professors.
Comments will be moderated. Keep comments relevant to the article. Remarks containing abusive and obscene language, personal attacks of any kind or promotion will be removed and the user banned. Final decision will be at the discretion of the Taipei Times.