Foundation warns about smartphone addiction
Parents and governmental agencies must pay greater attention to the emergence of disturbing trends in the use of smartphones by young people, the Child Welfare League Foundation said.
The foundation made the appeal based on the results of a survey it conducted from May 16 to June 14 among fifth to eighth -grade students, which point to the growing prevalence of smartphone addiction.
The survey, released on Monday, found that 39 percent of respondents had smartphones, up from close to 20 percent in the foundation's previous survey in 2011. The poll also found that those who had smartphones were using them longer and more often.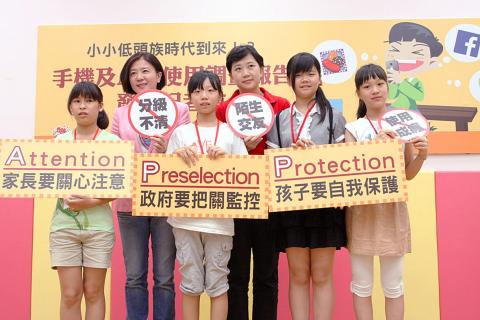 Children hold signs at the release on Monday of a Child Welfare League Foundation survey on smartphones in Taipei.
Photo: CNN, courtesy of the Child Welfare League Foundation
Among the respondents who own one of the devices, 13.9 percent said they use it for more than three hours a day on weekdays and 19 percent said they use it for more than 5 hours a day on weekends.
The most common activities to do on a smartphone: listening to music (85 percent), playing games (78 percent), using Facebook (68.6 percent) and chatting with friends on instant messaging applications like Line, WeChat and Whatsapp (64.6 percent), the survey found.
The poll found that 77.6 percent of respondents had downloaded and used apps on their phones.
The foundation said the survey revealed three worrying trends: the rise in the penetration of smartphones among young people, the increasing length of time young people use the gadgets and the growing rate of app downloads.
These trends, in turn, signal three potential crises, the foundation said.
The first is the rising addiction to the devices, with 36 percent of respondents saying they would feel unhappy, anxious or angry if they could not use their phone, and 19.8 percent reporting that they had fought with their parents because of restrictions to phone use.
Young smartphone users are also more exposed to the risks of befriending strangers on social networking sites, the foundation said, citing the 32 percent of respondents who said they added strangers to their circle of friends while using apps and the 23 percent who had met their new friends in person.
Another potential crisis was that most of the young smartphone users — 63 percent — were not familiar with the grading system for apps and could be downloading inappropriate or malicious content, the foundation said.
The survey received 2,483 valid samples and the margin of error was plus or minus-2 percentage points.
Comments will be moderated. Keep comments relevant to the article. Remarks containing abusive and obscene language, personal attacks of any kind or promotion will be removed and the user banned. Final decision will be at the discretion of the Taipei Times.