Tennis glory belongs to all Taiwanese, Hsieh says
GETTING PERSONAL: The tennis star said people should focus on the efforts she had made to get where she is now, instead of on whether she would switch allegiance
Tennis player Hsieh Su-wei (謝淑薇) yesterday repeated that she is a Taiwanese national and that the "glory" of winning the nation's first Grand Slam title at Wimbledon belonged to everyone in Taiwan.
Hsieh returned to Taiwan on Wednesday night following her unprecedented victory in the women's doubles at Wimbledon last week.
Yesterday morning, she first paid her respects to the deceased founder of Four Pillars Enterprises, Yang Pin-yen (楊斌彥), who was also the chairman of the Chinese Taipei Tennis Association (CTTA).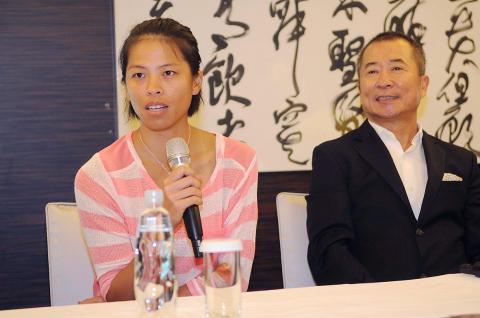 Hsieh Su-wei, left, who recently won the Wimbledon ladies' doubles tennis championship, talks during a press conference in Taipei yesterday. She dedicated her victory to Taiwan.
Photo: CNA
She met reporters following her visit to CTTA chairman Liao Yu-hui (廖裕輝).
The focus of the press conference was whether she would accept a NT$50 million (about US$1.7 million) per year sponsorship from a Chinese liquor company and switch allegiance to China.
Hsieh appeared to be rather irritated by the questions.
"I have never said anything about switching allegiance on my Facebook page, so I am a bit confused as to what happened here," she said.
"Not just Qinghai [the Chinese liquor company], but other groups have approached me. I just never mentioned any of them in public," she said.
"I think there's no need to make a fuss about it. In other countries, people pay attention to tennis players who have potential. In Taiwan, nobody paid attention to tennis players before Wimbledon this year, but many people had in fact tried to talk to me about possible offers well before this time," she said.
"My nationality is Republic of China [Taiwan], what more confirmation do you need?" Hsieh asked.
Hsieh said that she competed as a Taiwanese national at Wimbledon, and the glory of garnering the Grand Slam title belongs to everyone in Taiwan, whether or not she switches allegiance in the future.
She added that people should focus on how much effort she has made to make her what she is today.
Following her victory at Wimbledon, Liao and Hsieh each donated NT$1 million to establish a development fund for young tennis players. However, the funding is not enough for so many players, she said.
Asked about her plans in the next few months, Hsieh said that she wanted to rest for about a month before competing in the pre-US Open series. She would also start looking for training venues in other countries next week.
Asked who her partner would be in the doubles, she said: "It's Peng Shuai (彭帥). It's settled."
Peng was her Chinese partner at Wimbledon.
Comments will be moderated. Keep comments relevant to the article. Remarks containing abusive and obscene language, personal attacks of any kind or promotion will be removed and the user banned. Final decision will be at the discretion of the Taipei Times.