Hospital visit leads couple to remarry
LOVE BLOOMS ETERNAL: Following an accident which left their father in hospital, an estranged couple's children engineered a reunion and convinced the pair to remarry
Following persuasion by their children, a pair of octogenarians in Keelung remarried on Wednesday, 20 years after getting divorced.
The couple's second wedding followed an emotional reunion in hospital.
Eighty-four-year-old Wang Hsiu-ying (王秀英) said that because her family was poor, her parents had sent her to live with another family to work and also to be a child bride.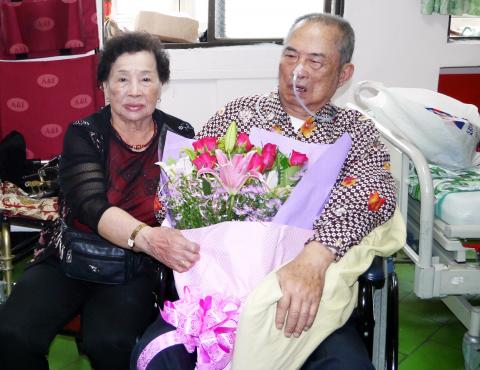 Wang Hsiu-ying, left, and Liu Te-lai, right, celebrate their second marriage in Keelung on Wednesday. Persuaded by their children, the two octogenarians remarried 20 years after getting divorced.
Photo: Wang Ying-chieh, Taipei Times
She said she was sent to be the wife-to-be of Liu Te-lai (劉德來), and the pair married the year after Liu returned from being drafted into the Japanese army during World War II.
"He [Liu] had a Japanese-style education and had a strict personality, but he always treated me well. Our kids looked up to him," she said.
However, Wang said their relationship fell apart when they were middle-aged because Liu had a number of affairs with other women and often returned home after midnight.
As she had always been a faithful wife, Wang felt betrayed by her husband's infidelity and she decided to file for divorce after being married for more than 40 years and raising three sons and two daughters
Liu chin-chang (劉錦璋), the couple's eldest son, said that following his parents' divorce, their mother still lived in the same house as their father, but they had little interaction.
"They carried on with their own separate lives," Liu Chin-chang said.
Liu Yu-chen (劉于甄), the couple's eldest daughter, said that on April 21 her 88-year-old father was injured in a motorcycle accident and was taken to a nursing home affiliated to Keelung Hospital to recover.
"At first, my mother would not visit him. She believed that my father did not want to see her. However, my father kept asking us: 'Where is your mother?'" Liu Yu-chen said.
Finally the couple's grown-up children convinced their mother to visit their father in the nursing home.
"When they met, they did not speak, but my father had tears rolling down his face. Then, my mother reached out to hold his hands tightly," Liu Yu-chen added.
Following the couple's rapprochement, their children managed to persuade their parents to "mend the broken mirror" and get married again.
Following help from Keelung City councilors, the city's civic affairs section sent an official to the hospital on Wednesday to help the elderly couple complete their marriage registration process.
Kuo Hsiu-lan (郭秀蘭), head of the Household Registration Office in Keelung's Nuannuan District (暖暖), said she had never heard such a heart-warming real-life story before.
"Most of the time, parents are the ones busy making arrangements for their childrens' marriages," she said.
"In this case, it's the children playing matchmaker to get their parents back together," Kuo added.
Comments will be moderated. Keep comments relevant to the article. Remarks containing abusive and obscene language, personal attacks of any kind or promotion will be removed and the user banned. Final decision will be at the discretion of the Taipei Times.