FEATURE: 'Uncle Yen' maintains love for baseball
To anyone who frequents the Tianmu Baseball Stadium in Taipei, Yen Ching-hsiu (嚴慶秀), a veteran groundskeeper and now a volunteer at the ballpark, is a familiar figure.
Affectionately known to players, coaches, managers and ballpark crew as "Uncle Yen," Yen has worked at the ballpark for nearly four decades.
"I can get autographed baseballs from any player I come across," he said.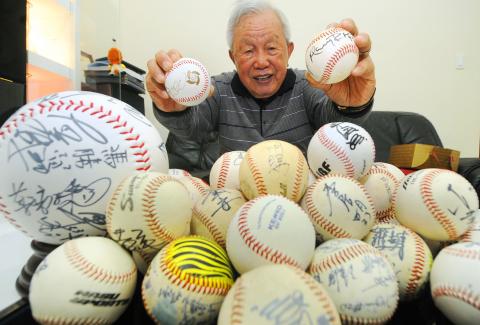 Yen Ching-hsiu, 88, shows his collection of signed baseballs at the Tianmu Baseball Stadium in Taipei on April 19.
Photo: Chu Pei-hsiung, Taipei Times
Yen said that when Taiwanese-Japanese baseball legend Sadaharu Oh (王貞治) came to Taipei, Oh was not willing to sign autographs.
However, when Yen approached Oh, he was friendly and signed a baseball for him, Yen said.
At the moment, the hottest baseball name in Taiwan is Manny Ramirez, the former slugger and World Series winner with the Boston Red Sox, who now plays for the Greater Kaohisung-based EDA Rhinos.
"I got Manny to sign a few baseballs. My friends requested it, and I still need Manny to sign four more," Yen said.
Yen said he kept one ball autographed by Ramirez at home, next to a ball signed by Wang Chien-ming (王建民), the Taiwanese pitcher who had two 19-win seasons with the New York Yankees in 2006 and 2007.
In 2011, the first IBAF 12U (under-12) Baseball World Championship was held in Taipei, with Taiwan's national squad keeping the title in the country.
The whole team, including its star players Tseng Wei-en (曾偉恩) and Chen Tzu-yang (陳子揚), signed a baseball as a gift for "Grandfather Yen."
Yen said he has a collection of more than 100 autographed baseballs.
Each one marks a point in the history of Taiwan's baseball development.
However, a major incident occured when he lent out the autographed balls to the Taipei City Government for an exhibition in 2007.
"After the event, they returned the collection to me. However, eight balls had gone missing, including the ones signed by [former president] Chen Shui-bian (陳水扁), [President] Ma Ying-jeou (馬英九), and [former star pitcher for the Weichuan Dragons] Huang Ping-yang (黃平洋)," Yen said.
Yen said he wished that all players would sign autographs for fans.
"I always told players that when a fan asks you to sign, you should do it," he said, comparing autographed balls to planting seeds. "When fans see the ball with your name on it, they will think of you. This is good for the player and good for the game."
"Some players don't like to hand out autographs. That is wrong. Fans appreciate their game skills, not because the players are handsome guys. So the players should appreciate the opportunity to sign autographs for fans," he said.
Yen said that he once saw a star pitcher toss a bouquet of flowers presented to him by a female fan into the trash bin.
"When the girl saw it, she started to cry. I gave that player a good scolding for his behavior," he said, adding that he did so because he knew that without fan support, professional baseball could not survive in the country.
Recalling another incident, he said that the ballpark's toilets once broke down and an elderly fan got so angry that he threw some excrement toward Yen.
Yen said he did not get angry, but instead apologized to the elderly man and explained that the toilet problem had been reported to management and that he was sorry for the trouble it had caused.
"The next day, the man's daughter drove by the ballpark and gave me a basket of fruit. She wanted to apologize for her father's outburst. That was a memorable incident," Yen said.
Born in China's Shandong Province in 1926, Yen served in the army and came to Taiwan in 1949.
He retired from the military in 1977, and at the invitation of then-head of the Retired Service Engineering Agency Yen Hsiao-chang (嚴孝章), he headed up the groundskeeper post at the Taipei Municipal Baseball Stadium in 1981.
That ballpark was torn down in January 2001 to make way for the construction of the Taipei Arena, so Yen decided to retire.
However, he was invited to become the head groundskeeper at the Tianmu Baseball Stadium in March 2001, so he continued and now does volunteer work at the ballpark.
His eldest son is now over 60, as Yen approaches his 90th year. However, he still walks with a quick pace, adding that the secret to his longevity is baseball.
"The more fans there are at the ballpark, the more energized and stronger I feel," Yen said. "I will get sick if there is no audience for a game."
Yen said that when he comes to the ballpark and sees the big crowd on a game day, he gets a boost of energy.
While working at the old Taipei Municipal Stadium, Yen at times lived at the ballpark.
"In those years, we had youthlevel games starting at 6am or 7am. There were also amateur and college games, and tickets sold out even for these games," he said.
When he is not at the ballpark, Yen said he watches televised games, adding that one of the main reasons he watches the games on TV is "to see the passion of the fans."
"Taiwanese baseball fans in the northern, central and southern regions behave differently when watching the games," he said.
Yen once gave advice to the main founder of the nation's pro league, Hung Teng-sheng (洪騰勝), saying: "The time is right to launch professional baseball. It is certain to be successful."
Hung is now known as the "Father of Taiwanese pro baseball" for initiating the Chinese Professional Baseball League (CPBL) and was the president of the Brother Hotel, with his family owning the Brother Elephants team.
Yen said that in the late 1980s Hung was leading the effort to organize and start up the pro baseball league.
"At the time, Hung told me that all his money had been spent," Yen said. "I told him that with hard work and diligence he could overcome the obstacles he was facing."
Yen said Hung is thinking of inviting him to throw the ceremonial first pitch in an upcoming Brother Elephants game.
Yen said he would accept the invitation.
"I am willing to do anything that is good for Taiwan's pro baseball," he said.
Comments will be moderated. Keep comments relevant to the article. Remarks containing abusive and obscene language, personal attacks of any kind or promotion will be removed and the user banned. Final decision will be at the discretion of the Taipei Times.