Feature: Principal runs 'school of rock' in Hsinchu County
Over the past two decades, the number of street artists and performers in the nation has been steadily increasing. Growing numbers of young people are taking to the streets to showcase their talents and maybe earn a bit of extra money, but one would still not expect to see an elementary-school principal performing on the street.
However, Peng Huan-chang (彭煥彰), the principal of Beipu Elementary School in Hsinchu County's Beipu Township (北埔), breaks this stereotype with his second career as a street musician.
Though he may not be the type of person one would imagine as a busker, Peng says that being a street performer does not conflict with his profession; rather, it complements it.
Peng Huan-chang, right, the principal of Beipu Elementary School, performs with his band on Thursday last week in Hsinchu County.
Photo courtesy of Beipu Elementary School
"We teach our children that music is good for you, and if that holds true, what's wrong with the principal of a school performing music on the street that everyone can enjoy?" Peng said.
The 45-year-old principal hit upon the idea of street performance in 2008, when he was principal of Shakeng Elementary School. Teachers at the school were encouraged to form clubs, so Peng invited other faculty members who loved music for jam sessions and they eventually formed a band.
Doubling as the band's frontman and lead guitarist, Peng said the band originally only planned to perform for students on special occasions such as birthday parties, but their performances were so well received that they started playing at social functions on behalf of the school.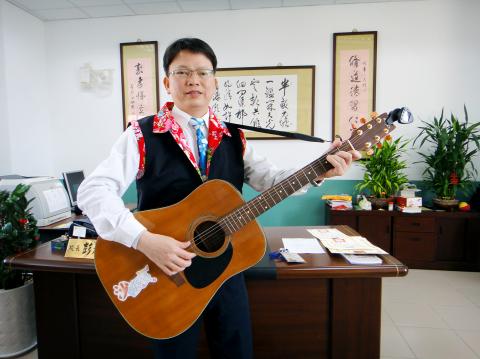 Beipu Elementary School principal Peng Huan-chang plays the guitar in his office on Thursday last week in Beipu Township, Hsinchu County.
Photo courtesy of Beipu Elementary School
"We included the school's name in our band name, which was Sha Hen Da (沙很大)," Peng said, adding that the band was even invited by a technology company to perform at the firm's year-end banquet.
"That was a major boost to our morale and confidence," Peng said, adding that the invitation had motivated the band members to apply for a street performers' license. "It was a test of whether we were professional enough as musicians to be given a license to perform."
The band joined the Hsinchu County Association for Music in 2010 and received a street artist's license in 2011.
After Peng was transferred to Beipu Elementary School, he became even more active in promoting the arts in education, hosting periodic talent shows to encourage students to sing, dance or act.
"The shows serve as a platform for children to train themselves to showcase their talents and to develop the courage to be on stage," Peng said. "The purpose of education is to bring out students' potential and let them develop the knowledge and wisdom that will help them improve themselves."
Principals are not meant to lock themselves in the office, they are meant to eliminate the distance between themselves and their students, Peng said, adding that when the students saw him playing his guitar outside of school, it made them more confident and more willing to exhibit their own talents.
"Once students have confidence in themselves, they can better realizer their full potential at school," the principal said.
Lee Kuo-lu (李國祿), the deputy director of the Hsinchu County Government's Bureau of Education, said Peng was a passionate educator and not afraid to express himself, adding that the effect he had on his students was admirable.
"He teaches by example and the results are simply astounding," Lee said.
Kuan Wu-te (官武德), the parent of a student at Beipu Elementary School, said: "I've been to see the performances organized by principal Peng and have seen that he really goes out of his way to interact with the children and share his talent with them."
Kuan added that his son always happily recounted interactions with Peng and school performances when he came home from school.
Making learning entertaining, so that both the teacher and the student enjoy it, is a great help to the students, both in developing the right mindset toward education and in learning itself, Kuan said.
Comments will be moderated. Keep comments relevant to the article. Remarks containing abusive and obscene language, personal attacks of any kind or promotion will be removed and the user banned. Final decision will be at the discretion of the Taipei Times.