Japanese school opens with Taiwanese help
A nursery school funded mostly by donations from the Red Cross Society of the Republic of China (ROC) opened on Thursday in Japan's Iwate Prefecture, an area that was hard hit by a massive earthquake and tsunami in 2011, the charity said.
The new Osawa Nursery School, 80 percent funded by the Red Cross Society, aims to give children in the prefecture's Yamada area hope for a new future, the charity said.
It will provide places for 31 children and will be staffed by nine teachers, said the Red Cross, which received NT$2.57 billion (US$86.38 million) in donations from Taiwanese after the March 11, 2011, disaster in northeastern Japan.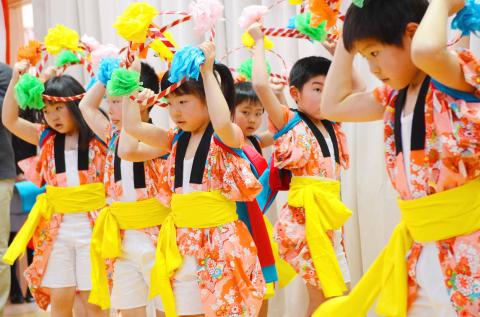 Japanese children perform at a nursery school funded mostly by donations from the Red Cross Society of the Republic of China in Japan's Iwate Prefecture on Thursday.
Photo provided courtesy of the Red Cross Society of the Republic of China
With Germany contributing the other 20 percent of the cost, construction of a new 1,041m2 building began in July last year, more than a year after the original 50-year-old structure was almost totally destroyed by the earthquake and tsunami.
Particular attention was paid to making the new building earthquake-resistant and fireproof, as well as improving the soil quality because of severe land subsidence in the area.
At the formal opening of the school, Taiwanese musicians played a number of songs and later joined Japanese musicians for a concert in Yamada to commemorate the March 11 disaster.
The school is the second reconstruction project to be completed by the Red Cross Society of the ROC in Japan since the 2011 disaster.
The first was a public housing compound for the elderly in Fukushima Prefecture, which, along with Iwate and Miyagi prefectures, was among the areas hardest hit by the disaster.
Construction of another nursery school in Yamada is expected to begin on Thursday, also with funding from the ROC group, and is scheduled to be opened in July.
In the wake of the 2011 earthquake and tsunami, Taiwan donated US$260.64 million to Japan, 90 percent of which came from private donors.
This was the highest amount from any nation.
Official figures compiled after the disaster listed 15,881 people dead, 2,668 missing and more than 1.1 million houses destroyed or damaged.
Comments will be moderated. Keep comments relevant to the article. Remarks containing abusive and obscene language, personal attacks of any kind or promotion will be removed and the user banned. Final decision will be at the discretion of the Taipei Times.