President to gift porcelain to popes
President Ma Ying-jeou (馬英九) is to present Franz porcelain items as gifts for the new and retired popes during his upcoming visit to the Vatican, Presidential Office spokesperson Lee Chia-fei (李佳霏) said yesterday.
The present for Pope Francis is a vase with a "Joyful Magpie" design, which symbolizes joy in celebrating the inauguration of the new pontiff and a blessing because, based on Taiwanese traditional beliefs, magpies are a good omen, Lee said.
For retired pope Benedict XVI, Ma has prepared a camellia blossom vase, which represents Ma's wish for the religious leader to live well after his retirement, she added.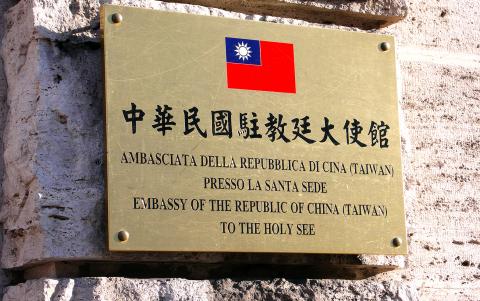 The plaque at the entrance to the Republic of China (Taiwan) embassy in the Vatican is seen yesterday. President Ma Ying-jeou is leading a delegation to the Vatican that will attend the inauguration of Pope Francis I on Tuesday.
Photo: CNA
Lee said that items from the Franz porcelain collection were chosen as gifts because it is a brand created by Taiwanese potter Franz Chen (陳立恆), a devoted Catholic.
For many years, Franz porcelains — famous for combining the beauty of Western and Eastern cultures in porcelain — have been among the Taiwanese products popular with foreign visitors, Lee said.
Ma and his wife, Chow Mei-ching (周美青), are to leave for the Vatican today, and plan to attend the new pope's inaugural Mass, which is scheduled for tomorrow.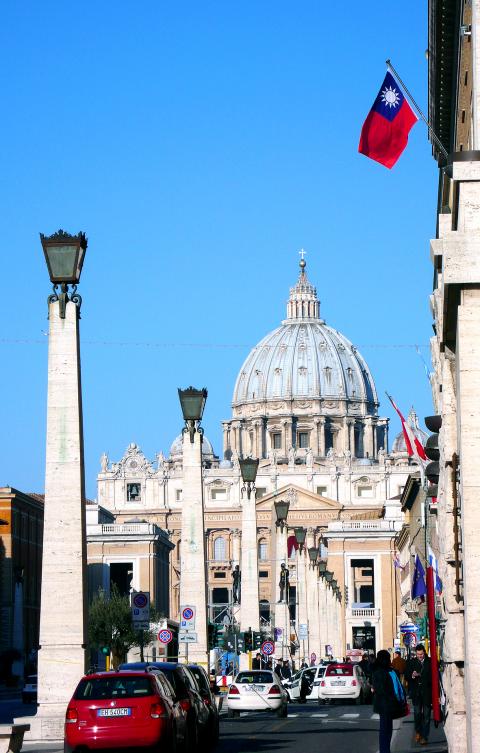 The national flag of the Republic of China (ROC) flies at the ROC embassy in front of the Papal Basilica of Saint Peter in the Vatican yesterday.
Photo: CNA
The first couple will be accompanied by National Security Council Secretary-General Jason Yuan (袁健生), Deputy Minister of Foreign Affairs Vanessa Shih (史亞平) and Fu Jen Catholic University president Vincent Chiang (江漢聲).
They are scheduled to return to Taiwan on Wednesday.
The Vatican is Taiwan's only diplomatic ally in Europe.
Though the two countries have maintained diplomatic ties since 1942, visits by Taiwanese presidents to the Holy See have been rare due to China's objections.
China has in the past reacted angrily to Taiwanese presidents making state visits.
In 2005, China filed a protest to Italy for granting a visa to then-president Chen Shui-bian (陳水扁) so he could attend the funeral of pope John Paul II.
Asked about Ma's upcoming tour to Europe, Legislative Speaker Wang Jin-pyng (王金平) said the Vatican is Taiwan's diplomatic ally and China should respect the interactions between two countries that maintain diplomatic links with each other.
Wang said he believes Ma's visit to the Holy See would not affect Taiwan's relations with China.
Comments will be moderated. Keep comments relevant to the article. Remarks containing abusive and obscene language, personal attacks of any kind or promotion will be removed and the user banned. Final decision will be at the discretion of the Taipei Times.