The 228 Incident: Lin I-hsiung's family tragedy commemorated
LOVING MEMORY: About 100 people attended the memorial service held to commemorate Lin's mother and daughters stabbed to death in 1980
Former Democratic Progressive Party chairman Lin I-hsiung (林義雄) and his wife, Fang Su-min (方素敏), yesterday attended a service to commemorate their twin daughters and Lin's mother, who were murdered during the White Terror era.
Around noon on Feb. 28, 1980, a person whose identity remains unknown broke into Lin's house in Taipei and attacked Lin's 60-year-old mother, Lin Yu A-mei (林游阿妹), his seven-year-old twin daughters, Lin Huan-chun (林奐均) and Lin Liang-chun (林亮均), and eldest daughter, Lin Ting-chun (林亭均), who was nine-years old at the time.
At the time of the incident, Lin I-hsiung was in jail awaiting trial for his participation in the Kao-hsiung Incident the previous year, and his wife was visiting him.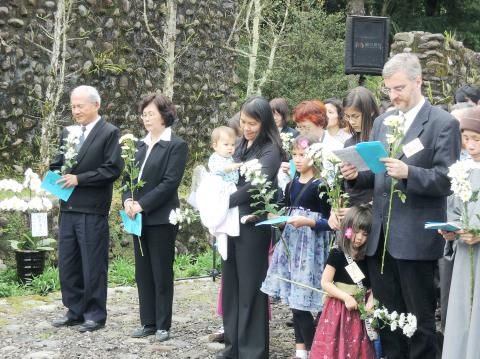 Former Democratic Progressive Party chairman Lin I-hsiung, left, and his wife, Fang Su-min, second left, attend a memorial service for Lin's murdered mother and the couple's murdered twin daughters at the Lin Family Cemetery in Yilan County yesterday.
Photo: Hu Chien-sen, Taipei Times
Lin I-hsiung's mother, Lin Liang-chun and Lin Ting-chun died after being stabbed.
His eldest daughter Lin Huan-chun survived after being stabbed six times.
As the Lins' house at the time was under close surveillance by the police and secret service agents, some believe that the murder was arranged by the government as a warning to those involved in the pro-democracy movement.
However, the actual course of events remains unknown.
The Lins' residence on Xinyi Road in Taipei later became the Gikong Presbyterian Church, which holds a memorial service each year for the family.
About 100 people attended yesterday's memorial service.
Comments will be moderated. Keep comments relevant to the article. Remarks containing abusive and obscene language, personal attacks of any kind or promotion will be removed and the user banned. Final decision will be at the discretion of the Taipei Times.