Talks on cross-strait politics necessary: Lien
Negotiations on political issues are unavoidable in the future if cross-strait relations are to continue developing, former Chinese Nationalist Party (KMT) chairman Lien Chan (連戰) said yesterday.
During a meeting with outgoing Chinese President Hu Jintao (胡錦濤) yesterday in Beijing, Lien said that academics and non-government organizations that specialize in cross-strait ties should engage in extensive exchanges about and conduct studies on political dialogues and negotiations between Taiwan and China.
"It would be an extremely important political work on how to strengthen mutual trust between the two sides of the Taiwan Strait on politics, economy and culture," he said in a press release issued by his office.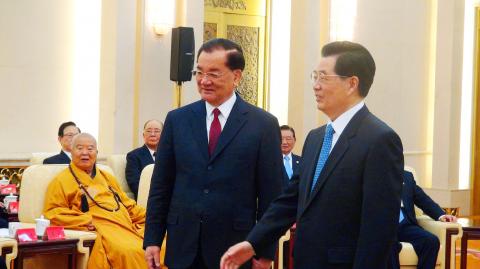 Fo Kuang Shan monastery founder Hsing Yun, left, seated, looks on as former Chinese Nationalist Party (KMT) chairman Lien Chan, center, introduces members of a delegation from Taiwan to Chinese President Hu Jintao, right, in Beijing yesterday.
Photo: CNA
Lien and Hu both agreed that the two sides of the Taiwan Strait should continue to seek consensus under the principle of the so-called "1992 consensus," a tacit understanding between the KMT and the Chinese government that there is "one China," with each side having its own interpretation of what "China" means.
Lien, who is on a four-day trip to China, also met with incoming Chinese president and current Vice President Xi Jinping (習近平) on Monday to discuss cross-strait issues.
Xi's meeting with Lien was his first with a senior Taiwanese politician since he became general-secretary of the Chinese Communist Party in November last year.
Xi is to succeed Hu next month.
Lien's meeting with Hu yesterday could be the Chinese president's last official meeting with Taiwanese political figures before he steps down from his post.
Lien said that Taiwan and China should start preparing to address "core issues" in the future, because cross-strait negotiations must progress from easier issues to more difficult ones, such as politics.
President Ma Ying-jeou's (馬英九) government has taken a cross-strait stance that focuses on economic and other non-political exchanges, while avoiding political topics.
Lien's office said that the meeting with Hu had been relaxed and the KMT chairman had praised Hu for leading efforts on the peaceful development of cross-strait relations, and told him that future Chinese leaders should continue these efforts.
Lien also invited Hu to visit Taiwan and sample the local cuisine when he had the chance to, the press release said.
The Democratic Progressive Party (DPP) yesterday said that Ma is obligated to explain the comments Lien made during the visit and in what capacity he was there.
"The DPP has four questions for Ma: Did Lien receive your prior authorization to make his comments in Beijing? Did the things Lien said in his meeting with Hu represent Ma's position? In what capacity did Lien visit China? And was he representing the government?" DPP spokesperson Lin Chun-hsien (林俊憲) said.
The DPP opposes opaque cross-strait engagement, which is the most dangerous way of dealing with the bilateral affairs, because they affect all Taiwanese, not just the KMT, Lin said.
The DPP added that it had not been surprised by Lien's courtesy call to Xi as the KMT chairman had always been enthusiastic about trips to China, Lin said.
"Lien's comments about 'one China' have downgraded Taiwan's dignity yet again, as he did not bother mentioning 'different interpretations,'" Lin added.
Additional reporting by Chris Wang
Comments will be moderated. Keep comments relevant to the article. Remarks containing abusive and obscene language, personal attacks of any kind or promotion will be removed and the user banned. Final decision will be at the discretion of the Taipei Times.