Taichung man plants trees for posterity
With his blue stetson and thick gray jacket, Lai Pei-yuan (賴培元) looks like a modern-day cowboy, but rather than raising cattle, he grows trees.
The 57-year-old Taiwanese entrepreneur made his fortune in transportation and property, but his real mission in life is to reinstate at least some of the forests that once covered most of the island.
"It was just a simple idea I had," Lai said. "If I was to safeguard Taiwan, I would have to plant trees."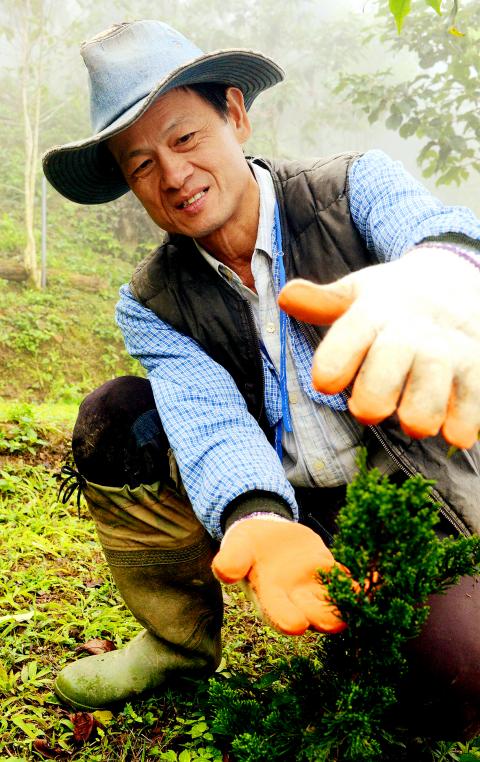 Lai Pei-yuan, a 57-year-old entrepreneur and tree-planting advocate, is pictured in Greater Taichung on Jan. 3.
Photo: Mandy Cheng, AFP
For the past three decades, Lai has bought and planted thousands of trees every year, often with his own hands.
Today his efforts can be seen in the 130 hectares of mountainsides near Greater Taichung covered with 270,000 deep-rooted trees, representing indigenous species such as Taiwan incense cedar and Cinnamomum micranthum.
"He's a legendary person," President Ma Ying-jeou (馬英九) said during a recent visit to Greater Taichung, where he met and sipped coffee with Lai. "No one else in Taiwan has planted so many trees."
It is an endeavor that has cost him hundreds of millions of New Taiwan dollars (millions of US dollars), as well as earned him the sobriquet "King of the Trees."
Lai said he was inspired after seeing how rapid industrialization had laid waste to Taiwan in the post-war era of super-high growth.
"Many, many trees growing in the mountains were cut down and exported," Lai said.
It had begun under Japanese colonial rule from 1895 to 1945, when ancient trees were cut down in the name of progress, a process that continued until the closing years of the 20th century.
It was only in 1989 that Taiwanese authorities banned the logging of primeval forests, but by that time it was almost too late.
The results were devastating. In the course of the 20th century, forest coverage fell from 90 percent to 55 percent, according to one government survey.
Lai nevertheless saw it as an opportunity to build something that would leave a legacy for posterity.
"I had seen how companies prospered and declined. I felt I wanted to do something that could last for generations to come," he said.
Lai began his tree crusade when he was about 30, setting out every morning to plant trees on plots of land that he owned. Often his family would only see him after sunset. His children were puzzled.
"When my brother and I were young, we had no idea what dad was doing. Our impression was that he was on the mountains all the time," his elder son Lai Chien-chung (賴建忠) said.
Today Lai Chien-chung sells coffee beans grown in his father's forests under the brandname "Coffee & Tree." He also opened his first coffee shop in downtown Taichung last year.
About 95 percent of the profits from the coffee sales have been used to finance the maintenance of the forests and the planting of trees, Lai Chien-chung said.
To ensure sustainable management of his forests, Lai Pei-yuan pledges no deforestation and sell-off.
Nor will he give the forests to his family after his death, he said. They will instead be managed by a non-profit foundation he has set up.
Meanwhile, he can take pleasure in the fact that others are following in his footsteps.
Since 2008, individuals, companies and government bodies have jointly planted more than 23,000 hectares of trees, according to the Forestry Bureau as part of Ma's iTaiwan projects launched in 2009.
Comments will be moderated. Keep comments relevant to the article. Remarks containing abusive and obscene language, personal attacks of any kind or promotion will be removed and the user banned. Final decision will be at the discretion of the Taipei Times.