Tzu Chi buildings spark protests
DEVELOPMENT FURY: Protesters said the Tzu Chi charitable organization had bought illegally constructed buildings in a conservation area in Neihu District, Taipei
Representatives from environmental groups and local residents yesterday gathered in front of Taipei City Hall to present a petition saying that all the buildings on a plot of land purchased by the Buddhist Compassion Relief Tzu Chi Foundation within an environmental conservation area in the city's Neihu District (內湖) are illegal, a view that the city government said had some validity.
The Tzu Chi Foundation purchased a plot of land on the district's Chengkong Road Sec 5, across from Dahu Park (大湖公園), and applied to the city government in 1997 to change the land's status from a environmental conservation area to one that could be used for the construction of a 4.6 hectare "social welfare park."
The foundation's plans led to opposition from environmentalists and local residents over concerns that the fragile geological features of the site may not be appropriate for a large-scale development, possible water drainage problems and over fears that the case would become a bad example of giving over environmental conservation areas to development.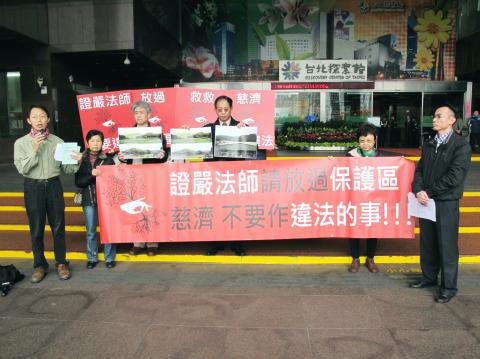 Environmental activists hold a banner at the entrance of Taipei City Hall yesterday as they protest against a Buddhist Compassion Relief Tzu Chi Foundation development project in Taipei's Neihu District.
Photo: Chen Wei-tzu, Taipei Times
Shouting: "The city government should stop covering up for Tzu Chi, and Tzu Chi should stop its illegal practices," the protesters urged the city government to admit that the buildings on the land are illegal constructions, and to put a stop to the foundation's efforts to legalize them or to expand the development.
Neihu Environmental Conservation Area Protection Association chairperson Lee Jih-Ching (李日進) said that according to the city government's land use regulations for environmental conservation areas, developments larger than 5,000m2 need to go through urban planning and renewal procedures, and construction of buildings more than 200m2 require approval from the city's urban planning committee, but the foundation did not fulfill either of these requirements.
Pan Han-shen (潘翰聲) of Green Party Taiwan, said the city government should not neglect the fact that the existing buildings in the area are illegal and should take action accordingly.
Receiving the petition from the groups' representatives, Construction Management Office deputy director Chen Huang-cheng (陳煌城) said: "According to our records, there are indeed illegal constructions in the area, but operations to tear them down are on hold."
The city government passed an administrative order some years ago that allowed illegal constructions built before 1994 to be exempted from being torn down, Chen said, adding that the office would check whether there are new illegal constructions in the area within the next two weeks.
Comments will be moderated. Keep comments relevant to the article. Remarks containing abusive and obscene language, personal attacks of any kind or promotion will be removed and the user banned. Final decision will be at the discretion of the Taipei Times.