Diver gives self to saving lives with volunteer unit
DIVING IN: Driven by a desire to help people derived from the floods he witnessed as a child, Lee Ching-yi founded Taipei's first volunteer team of rescue divers
Having experienced a multitude of floods as a child living on Taipei's Dihua Street, Lee Cheng-yi (李誠逸) had always wanted to join the police or the firefighting department when he grew up. Despite not having followed his original dream, Lee has spent the past 20 years saving lives as the founder and member of the first volunteer civilian diving team in the city.
Lee's two decades of search-and-rescue efforts earned him the Golden Dragon Award, the highest honor firefighters in Taipei can receive.
Although Lee recounts his experiences with a smile, he and his team risk their lives and witness tragedy during their search-and-rescue missions.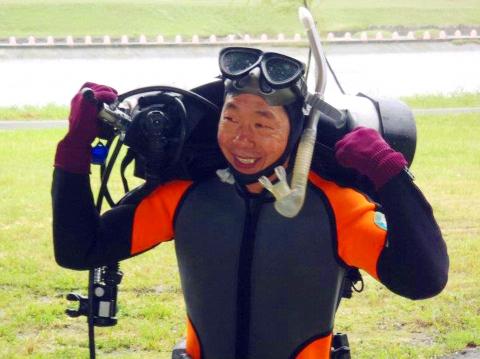 Lee Cheng-yi, founder and member of Taipei's first volunteer civilian diving team, carries an oxygen tank near a riverbank in Taipei on Thursday.
Photo: Yao Yueh-hung, Taipei Times
One of the difficulties the divers face during their missions is having to "feel" their way along a riverbed to find the person they are searching for because the underwater visibility in the Tamsui or Keelung rivers is virtually zero, Lee said, adding that the riverbeds were strewn with iron bars, broken glass and nails.
"There are lots of nasty surprises on the riverbed; getting tangled up in a rope is perhaps the 'best' of them all," Lee said.
When asked what had inspired him to become a rescue diver, Lee said that it had always been his dream to help others in emergency situations because of the floods he had seen when he was young, but he had been unable to become a policeman or firefighter because of family financial difficulties.
However, Lee said that he had the good fortune to serve in the army's 101st Amphibious Reconnaissance Battalion unit — often called the Sea Dragon Frogmen — during his mandatory military service. The diving knowledge he gained from his time in the unit equipped him with the skills needed for search-and-rescue as well as enabling him to acquire a diving instructor's permit.
After finishing his service, Lee volunteered with the Red Cross Society of the Republic of China in his spare time and also joined the Chinese-Taipei Diving Development Association. It was while working at the association that he managed to persuade a group of his colleagues to form the first volunteer search-and-rescue diving squad in Taipei.
Since then, Lee and his team have been enlisted to help out in hundreds of rescue missions, often succeeding where others have failed.
When the body of a Coast Guard Administration officer who had fallen into the sea on his scooter could not be recovered, it was Lee who found the body in the crevices of a groyne — a hydraulic structure built to interrupt water currents.
Though the work is fulfilling, it can also be emotionally difficult, as Lee experienced on one occasion when he was called to Sun Moon Lake after a boat capsized and saw a female survivor devastated by her spouse's death.
"It was very profound expericnes to see the wife howling over her husband's body. She kept saying that she had been telling him to take swimming lessons," Lee said, adding that the incident had motivated him to do charity work.
Lee often volunteers to give swimming lessons for organizations that help the disadvantaged, such as the Eden Social Welfare Foundation, which cares for the physically and mentally disabled.
He is also active in encouraging people to adopt beaches and keep them clean.
"If everybody is willing to make a bit of additional effort, it would greatly help reduce environmental damage and potentially limit related natural disasters," Lee said.
Comments will be moderated. Keep comments relevant to the article. Remarks containing abusive and obscene language, personal attacks of any kind or promotion will be removed and the user banned. Final decision will be at the discretion of the Taipei Times.