Taipei officials find 27 percent of dried fruit, veg not 'safe'
A survey recently showed that about 10 percent of fresh fruit and vegetables and 27 percent of their preserved or dried counterparts sold in Taipei violate food safety regulations, the Taipei City Government's Department of Health said yesterday.
With the upcoming Lunar New Year holiday expected to increase food demand, the health department conducted three series of food safety inspections on products from stores around the city: one on preserved and dry fruit and vegetables; another on dried fruit and vegetables; and a third on seafood and meat products.
Among the 100 samples of dried fruits and vegetables tested, 27 were found to contain excessive levels of additives. Seven of the products had levels of flavoring agents beyond the acceptable limit, seven had preservative levels that were too high and four contained amaranth — an artificial food coloring banned in Taiwan.
A Taipei City Department of Health official holds a bag of dried plums at a press conference yesterday while talking about the results of the department's recent inspection of preserved and dried food products' compliance with safety standards.
Photo: CNA
The department found that of the 10 preserved fruit samples it tested, six contained excessive levels of saccharin — an artificial sweetener — while seven of 17 preserved vegetables were found to have preservatives exceeding allowable limits.
Chen Li-chi (陳立奇), the director of the department's Food and Drug Division, said the companies responsible for the products have been asked to recall them, and if further investigations reveal that the firms are practicing illegal manufacturing, they may face fines of between NT$30,000 and NT$150,000 (US$1,000 and US$5,000), as stipulated by the Act Governing Food Sanitation (食品衛生管理法).
Three of the companies required to initiate recalls were repeat offenders identified in last year's survey, so their names have been published on the department's Web site, officials said.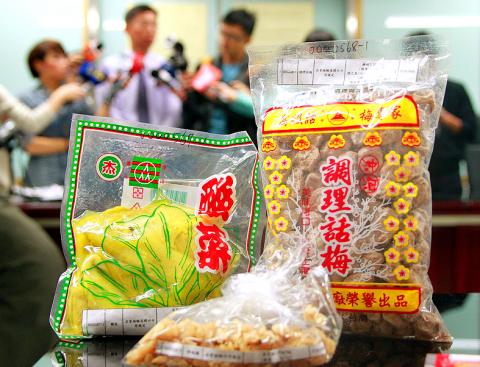 Bags of preserved and dried food are shown at a press conference held by the Taipei City Department of Health yesterday.
Photo: Lin Hsiang-mei, Taipei Times
The inspections carried out on fresh fruit and vegetables showed that 20 out of the 69 samples tested contained pesticide residues, but only seven products contained illegal pesticides or residues that exceeded the established limits.
The producers of the offending fresh fruit and vegetables were also asked to pulled the produce off the shelves and may face fines of between NT$60,000 and NT$6 million, the department said.
It added that to reduce the possibility of ingesting pesticide residue, consumers should clean any soil off produce, cut off any roots, soak it in clean water for about 10 to 20 minutes and wash thoroughly with tap water at least twice before cooking.
A separate inspection conducted on seafood and meat products showed that all 104 samples — 58 seafood items and 46 meat items — had passed food safety examinations, the health department said.
Comments will be moderated. Keep comments relevant to the article. Remarks containing abusive and obscene language, personal attacks of any kind or promotion will be removed and the user banned. Final decision will be at the discretion of the Taipei Times.