Department of Health advises flu shots for travelers
OUNCE OF PREVENTION: The department said the vaccine used in Taiwan is highly effective against the flu strain sweeping the US, Europe, China and Japan
The Department of Health yesterday said the H3N2 influenza virus outbreak in the US had been reported in 47 states and caused the death of 20 children, so people who are planning to travel overseas during the Lunar New Year holiday should get vaccinated.
The department's Centers for Disease Control (CDC) said that visits for influenza now account for 4.3 percent of all clinical visits, while the base standard is about 2.2 percent.
According to statistics from a national influenza monitoring Web site, more than 3,710 influenza patients in the US have been hospitalized this season, with the majority being people over the age of 65, the CDC said.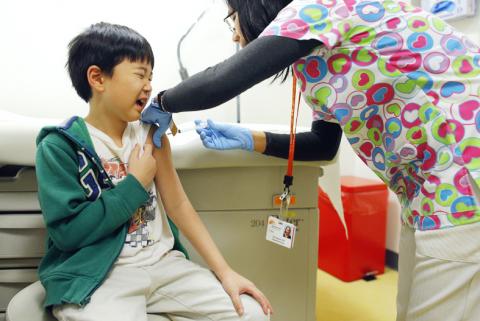 Eight-year-old Chihn Ha gets an influenza vaccine injection at a healthcare clinic in Boston, Massachusetts, on Saturday. Influenza has officially reached epidemic proportions in the US.
Photo: Reuters
Other regions, such as Europe, northern China and Japan, have also reported a high prevalence of the influenza, it added.
It said the annual flu season should have hit Taiwan around this time of the year, but the outbreak has not occurred yet.
That is mainly because a short H3N2 virus outbreak already occurred in April last year, followed by a high peak period between late June and early July, it said.
It added that influenza vaccinations were given to high-risk and high-risk groups, such as elderly people, children, patients with rare diseases and people in care facilities in October last year, so the number of reported influenza cases this season has only reached 278 so far.
The CDC said the vaccine strain used in Taiwan this season is highly effective against the virus strain seen in many parts of the world, with a prevention rate of about 62 percent. People at high risk and children should therefore consider being vaccinated if they plan to travel overseas during the Lunar New Year's holiday, it said.
Comments will be moderated. Keep comments relevant to the article. Remarks containing abusive and obscene language, personal attacks of any kind or promotion will be removed and the user banned. Final decision will be at the discretion of the Taipei Times.