DPP holds second anti-Ma rally
The Democratic Progressive Party (DPP) yesterday staged the second and third demonstrations in its 10-rally campaign in Taoyuan County's Jhongli City (中壢) and Greater Taichung to protest the poor performance of President Ma Ying-jeou's (馬英九) administration demanding the president apologize and calling for a Cabinet reshuffle.
The DPP launched a one-month campaign titled "Fury" (火大) to express its anger over what it perceives as the Ma government's incompetence. The first rally was held at Longshan Temple in Taipei on Saturday.
Led by DPP Chairman Su Tseng-chang (蘇貞昌), various speakers, including former vice president Annette Lu (呂秀蓮) and DPP lawmakers, focused on the "erosion of Taiwan's democracy under Ma's watch" and "the president's failure to lift the economy" at the Jhongli rally.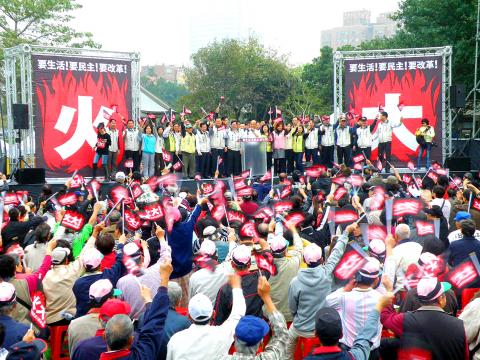 Participants in the Democratic Progressive Party's "Fury" demonstration wave flags yesterday in Jhongli City, Taoyuan County.
Photo: Lo Cheng-ming, Taipei Times
Speaking to about 3,000 supporters, Su said that a media monopoly is taking shape that could jeopardize Taiwan's freedom of speech and democracy, adding that Taiwanese should speak out and do their best to avoid being "blindfolded" to what is happening to the nation and becoming "Hong Kong-ized."
On the economy, Su said the Ma administration has been clueless and signing "bad checks," which it could not make good.
"Most importantly, he refused to listen to the people and the opposition. That is why we have to be in front of the Presidential Office on Ketagalan Boulevard on Jan. 13 to make him listen to us," Su said, referring to a planned demonstration.
Lu made an appeal to those in attendance about the significance of stopping the construction of the Fourth Nuclear Power Plant and submitted an initiative to make the disputed Diaoyutai Islands (釣魚台) a "demilitarized zone."
The other rally was held at Taichung's 228 Memorial Park and featured Su and former DPP secretary-general Su Jia-chyuan (蘇嘉全) as the main speakers.
In related news, former DPP chairperson Tsai Ing-wen (蔡英文) yesterday told reporters in Taipei that she was not avoiding the events in which Su appeared as some media outlets have reported, saying that she would participate in the rallies as long as she is available.
Tsai reiterated that she bore Su no ill feeling and that she skipped the first three rallies because her schedule was too full.
Some reports say that Tsai and Su are interested in running for the presidency in 2016 and this is why they are trying to avoid making public appearances together, but both have denied these claims.
Comments will be moderated. Keep comments relevant to the article. Remarks containing abusive and obscene language, personal attacks of any kind or promotion will be removed and the user banned. Final decision will be at the discretion of the Taipei Times.