Ex-comfort women slam Tokyo denial
FACING FACTS: Women who were forced into brothels by the Japanese military in World War II spoke at an event yesterday, urging Japan to admit and apologize for its acts
Former comfort women and rights advocates from several countries yesterday lashed out at the Japanese government over its refusal to apologize for the sexual slavery perpetrated by the Japanese military during World War II, while also urging international solidarity in the campaign for justice for former comfort women.
"I was a high-school student at the time [that I was forced to work at a military brothel]. I was going to school in Tainan from my home in Pingtung when I passed by a police station and a Japanese police officer asked if I needed I ride. I said: 'No,' but he still pulled me into the car," Cheng Chen Tao (鄭陳桃), a 91-year-old former comfort woman, said in Taipei yesterday at the 11th Asian Solidarity Conference for the Issue of Military Sexual Slavery by Japan.
Cheng Chen had to stop several times in the middle of her speech as she choked up with sobs.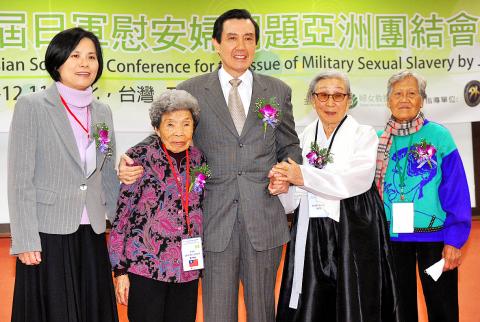 President Ma Ying-jeou, center, yesterday poses with former comfort women from Taiwan, second left, South Korea, second right, and the Philippines, right, at the 11th Asian Solidarity Conference for the Issue of Military Sexual Slavery in Taipei.
Photo: Chien Jung-fong, Taipei Times
"After being captured, I was sent off to India to work in military brothels as a prostitute for Japanese servicemen," Cheng Chen said. "I didn't even have a chance to say goodbye to my family."
Cheng Chen said she was beaten if she refused to provide sex to the soldiers or if she did not do as she was told.
When she returned to Taiwan after World War II, all that was left of her family was one uncle.
"However, my uncle called me a bitch and kicked me out of the family, saying the family wouldn't accept a dishonored woman," she said.
Cheng Chen was married once, but her mother-in-law forced her husband to divorce her because her reproductive ability had been compromised during her years in the brothels and she could not have any children.
"Since that day when I left home to go to school, I have not returned home and I've been by myself ever since," Cheng Chen said, adding that she supports herself by selling fruit.
Cheng Chen's case is not an isolated and studies show that hundreds of thousands of women from Japan, the Korean Peninsula, Taiwan, the Philippines, China, Indonesia and elsewhere in Asia were forced into military brothels during World War II.
"I will continue to fight for the Japanese government to admit its mistakes, apologize and compensate former comfort women until the day I die," Estelita Dy, a former comfort woman from the Philippines, said in tears. "Even when after I die, my children will carry on my quest, until Japan admits to its wrongdoing."
Kim Bok-dong, a former comfort woman from South Korea, urged all surviving comfort women and rights advocates to stay united and show solidarity to make the Japanese government apologize for the sexual slavery.
Aside from rights advocates, representatives from several human rights groups in Japan also attended in the conference.
Mina Watanabe of the National Movement in Resolving the Japanese Military Comfort Women Issue said that Japanese rights advocates have been working with groups in other countries to appeal to the UN High Commission for Human Rights to look into the issue, in the hopes of subjecting Japan to international pressure.
Ban Changja, a representative from the Osaka-based Support Group for Survivors of Japan's Military Sexual Violence, said that Japanese rights groups are also trying to pressure Tokyo. However, she said she was not very optimistic that this method would be effective because mainstream politicians in Japan tend to take a more conservative stance on the issue, with some politicians — such as former Tokyo governor Shintarou Ishihara and Osaka Mayor Toru Hashimoto — denying the practice in its entirety.
While fighting the attitude of mainstream politicians is very challenging, "what we can do is to teach everyone about the historical facts through the testimonies of former comfort women," Ban said.
President Ma Ying-jeou (馬英九) also attended the conference, delivering remarks calling on Japan to face its history honestly.
Comments will be moderated. Keep comments relevant to the article. Remarks containing abusive and obscene language, personal attacks of any kind or promotion will be removed and the user banned. Final decision will be at the discretion of the Taipei Times.