Taiwanese director honored in France
French Minister of Culture and Communications Aurelie Filippetti decorated Taiwanese director Ang Lee (李安) with the title of Chevalier of the Order of Arts and Letters on Tuesday in recognition of his achievements in filmmaking.
The honor came a day after the European premiere of Lee's latest film, Life of Pi, a 3D exploration of faith centered on a boy stranded in a lifeboat with a Bengal tiger.
Filippetti praised Lee's films, saying they have touched the hearts of audiences around the world and described them as a product of his background — growing up in the melting pot of Taiwan and studying filmmaking in New York.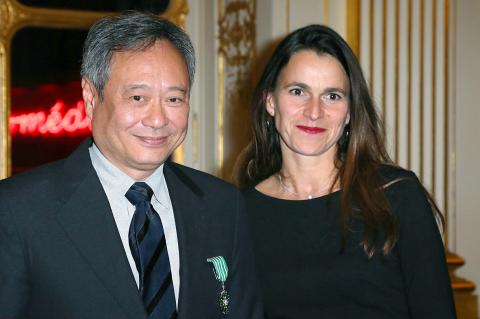 Taiwanese film director Ang Lee, left, poses beside French Minister for Culture and Communications Aurelie Filippetti after receiving the Chevalier of the Order of Arts and Letters medal yesterday at the Culture Ministry in Paris.
Photo: AFP
"At the convergence of art forms and cultural heritages, your professional journey has made you the filmmaker of cultural juxtaposition and of revealing 'otherness,'" the minister said.
Introducing each of Lee's 12 films, Filippetti said he had immersed himself in different cultures and helped people from different backgrounds break misunderstandings.
"You have combined the aesthetic principles of Hollywood with Asian filmmaking traditions in an uninterrupted dialogue between East and West," the minister said.
Filippetti further lauded Lee's strenuous efforts to strike a balance between commerce and art.
She also mentioned the French people's love and respect for Lee, saying renowned French actor Gerard Depardieu's willingness to play a minor role in Life of Pi was a form of recognition of Lee's accomplishments.
Lee said he has admired French New Wave films since his youth and has always been inspired by French films, which is why he invited French film icon Depardieu to play the chef in Life of Pi.
Saying France is not just a "country of cinema," but also a "great guardian of culture in general," Lee expressed his gratitude to the French Ministry of Culture for the honor.
"In receiving the Chevalier of Arts and Letters, I understand I have joined a luminous group of men and women from all over the world" who work for culture, Lee said.
Lee's wife, Lin Hui-chia (林惠嘉), Taiwan's representative to France Michel Lu (呂慶龍) and many other dignitaries, including Gilles Jacob, a former Cannes Film Festival president, noted director Olivier Assayas and Life of Pi production crew members also attended the ceremony.
Comments will be moderated. Keep comments relevant to the article. Remarks containing abusive and obscene language, personal attacks of any kind or promotion will be removed and the user banned. Final decision will be at the discretion of the Taipei Times.