Film views Taiwan through its people
TRUE TAIWANESE: The movie highlights the hopes of ordinary people who make their own small life stories within the constraints of their place in society
"I have always been very moved by the phrase: 'The greatest way to view Taiwan is its people,'" Amis director Lungnan Isak Fangas said.
The comments were directed toward a documentary he directed along with musician CinCin Lee (李欣芸) and designer Xiao Qing-yang (蕭青陽) at the request of Nesting Instinct Arts Co, the producer of Story Island (故事。島), on the lives of 14 individuals, with scenes featuring both rural and urban areas.
An exhibition is being held at the Taipei National Concert Hall tomorrow where the documentary is being screened.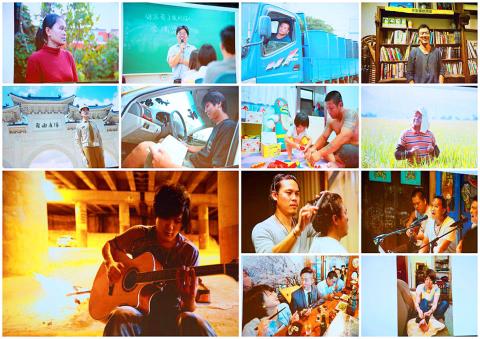 Images from director Lungnan Isak Fangas' documentary Story Island, which is set to be screened at the Taipei National Concert Hall tomorrow, are shown in this montage released on Wednesday last week.
Photo courtesey of the Wonderful Time Film Production
Lungnan said he sought to show the strength of Taiwanese society through the individuals he picked for the documentary.
"From them we see the liveliness and the hopes of the ordinary people of Taiwan — everyone makes their own small life stories within the constraints of their place in society. Such is the Taiwanese spirit," Lungnan said.
Among the 14 individuals chosen for the documentary, one is an Indonesian who married a Taiwanese and has been living in Taiwan for more than six years. Though her day job is a maid cleaning other peoples houses, "her own house is spotlessly clean, as if she had made her house her own fiefdom," Lungnan said.
Like another person featured in the documentary, a yoga teacher originating from Hong Kong, they have both taken to their new homes and made them their own, Lungnan said.
Another featured is Chuang Hung-pin (莊宏彬), a lighting engineer who recently worked on Ang Lee's (李安) Life of Pi and who moonlights as a taxi driver.
No matter what his job — whether working with Taiwanese or a Hollywood giant — Chuang's attitude at work won him the praise of everyone who had worked with him, Lungnan said.
Huang Chien-wei (黃建偉), a former gangster, now a pig farmer who collects food waste to feed his pigs, most moved Lungnan.
"Looking at his tattoos, you know that he had it good in the past," Lungnan said, adding that it was especially moving that such a person would choose to retire from the shady underworld to take care of his mother.
"Despite retiring to a life of picking up leftover food for his pigs, Huang remains fastidious in the life that he has chosen. Every day he cleans and brushes the leftover barrels until they shine like new," Lungnan said, adding that Huang's wife always carries their child and follows him on his rounds so the family can be together.
"There are so many ordinary Taiwanese whose lives are very touching — these are the true Taiwanese," Lungnan said.
Comments will be moderated. Keep comments relevant to the article. Remarks containing abusive and obscene language, personal attacks of any kind or promotion will be removed and the user banned. Final decision will be at the discretion of the Taipei Times.